製品
eSwab®
eSwab®は、その技術的特徴と独自の製法により、ダウンストリームアッセイ(グラム染色、従来式の培養、分子アッセイなど)の効率を高め、ラボのワークフローを最適化し、コストを削減することができる非常に汎用性の高いデバイスです。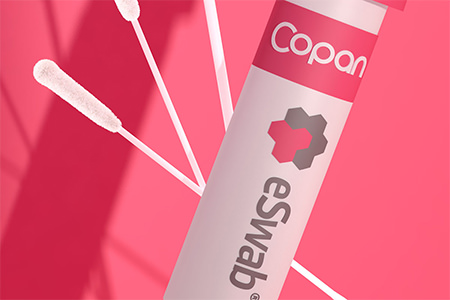 製品焦点
MSwab®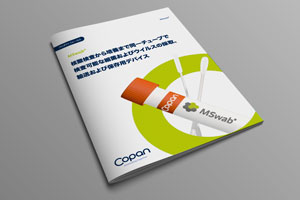 学術研究
BMC Veterinary Research
2021
The effect of urine storage temperature and boric acid preservation on quantitative bacterial culture for diagnosing canine urinary tract infection
Hedström M et al.
学術研究
Antibiotics
2021
ESBL-Producing, Carbapenem- and Ciprofloxacin-Resistant Escherichia coli in Belgian and Dutch Broiler and Pig Farms: A Cross-Sectional and Cross-Border Study
Sien De Koster et al.
学術研究
Animals
2021
Prevalence of BRD-Related Viral Pathogens in the Upper Respiratory Tract of Swiss Veal Calves
Eveline Studer et al.
学術研究
International Journal of Environmental Research and Public Health
2021
Screening of Eurasian Tundra Reindeer for Viral Sequences by Next-Generation Sequencing
Javier Sanchez Romano et al.
学術研究
Animals
2021
Screening the Presence of Non-Typhoidal Salmonella in Different Animal Systems and the Assessment of Antimicrobial Resistance
Dacil Rivera et al.
学術研究
Frontiers in Microbiology
2021
Evidence of Common Isolates of Streptococcus agalactiae in Bovines and Humans in Emilia Romagna Region (Northern Italy)
Elena Carra et al.
学術研究
Plos One
2018
Fluoroquinolone resistance in Campylobacter jejuni and Campylobacter coli from poultry and human samples assessed by PCR- restriction fragment length polymorphism assay
Yuli Melisa Sierra-Arguello
学術研究
Viruses
2022
Novel Low Pathogenic Avian Influenza H6N1 in Backyard Chicken in Easter Island (Rapa Nui), Chilean Polynesia
Francisca di Pillo et al.