適用分野カタログ (英文)
呼吸器感染症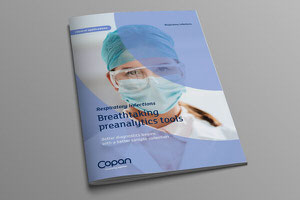 製品焦点
UTM®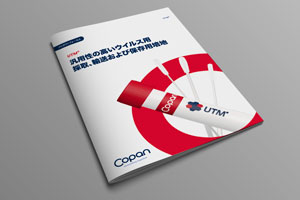 注文インフォ(英文)
FLOQSwabs®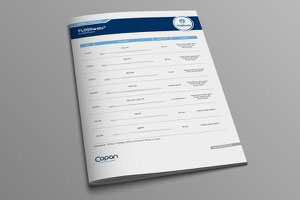 学術研究
Diagnostic Microbiology and Infectious Disease
2015
How is the Xpert MRSA Gen 3 assay (Cepheid) performing on pooled eSwab medium?
Stijn Jonckheere, Kristien Van Vaerenbergh, An Boel, Anne Van Keerberghen, Hans De Beenhouwer
学術研究
Virology Journal
2021
Excellent option for mass testing during the SARS‑CoV‑2 pandemic: painless self‑collection and direct RT‑qPCR
Eva Kriegova et al.
学術研究
European Journal of Microbiology and Immunology
2019
Liquid and Dry Swabs for Culture- and PCR-Based Detection of Colonization with Methicillin-Resistant Staphylococcus aureus during Admission Screening
N. von Allmen
学術研究
BMC Research Notes
2018
Detection of human bocavirus-1 in both nasal and stool specimens from children under 5 years old with influenza-like illnesses or diarrhea in Gabon
Sonia Etenna Lekana-Douki
学術研究
Journal of Clinical Microbiology
2021
Comparable specimen collection from both ends of at-home mid-turbinate swabs
Melissa Truong
学術研究
Journal of Cystic Fibrosis
2019
Detection of respiratory viruses in cystic fibrosis: comparison of nasal FLOQ Swabs™ and sputum using the FilmArray® platform
S. Cartel
学術研究
BMC Microbiology
2021
Combined oropharyngeal/nasal swab is equivalent to nasopharyngeal sampling for SARS-CoV-2 diagnostic PCR
Tania Desmet
学術研究
Journal of Clinical Virology
2021
Performance of the RT-LAMP-based eazyplex® SARS-CoV-2 as a novel rapid diagnostic test
Renate Egerer
学術研究
Clinical Microbiology and Infection
2019
Copan WASPLab automation significantly reduces incubation times and allows earlier culture readings
A. Cherkaoui
学術研究
Plos One
2019
High prevalence of multidrug resistant Enterobacteriaceae among residents of long term care facilities in Amsterdam, the Netherlands
Eline van Dulm
学術研究
The Western Journal of Emergency Medicine
2017
Risk of Skin and Soft Tissue Infections among Children Found to be Staphylococcus aureus MRSA USA300 Carriers
Lilly Cheng Immergluck
学術研究
Journal of Clinical Microbiology
2017
Multicenter evaluation of the Xpert MRSA NxG assay for detection of methicillin-resistant Staphylococcus aureus in nasal swabs
Melanie L. Yarbrough
学術研究
European journal of clinical microbiology infection disease
2016
Evaluation of the novel artus C. difficile QS-RGQ, VanR QS-RGQ and MRSA/SA QS-RGQ assays for the laboratory diagnosis of Clostridium difficle infection (CDI) and for vancomycin-resistant enterococci (VRE) and methicillin-resistant Staphylococcus aureus (MRSA) screening
K.A. Morris
学術研究
BMC Infectious Diseases
2018
Molecular epidemiology and virulence characteristics of Staphylococcus aureus nasal colonization in medical laboratory staff: comparison between microbiological and non-microbiological laboratories
Xiaoying Xie, Xinlu Dai, Lijia Ni, Baiji Chen, Zhaofan Luo, Yandan Yao, Xiquan Wu, Hongyu Li, Songyin Huang
学術研究
medRxiv
2021
Safe and effective pool testing 1 for SARS-CoV-2 detection
Marie Wunsch et al.
学術研究
Frontiers in Public Health
2021
Real-World Evidence: The Low Validity of Temperature Screening for COVID-19 Triage
Bogdan C. Pana et al.
学術研究
Scientific Reports
2021
Immune cell residency in the nasal mucosa may partially explain respiratory disease severity across the age range
Konner Winkley et al.
学術研究
Scientific Reports
2019
A pilot, open labelled, randomised controlled trial of hypertonic saline nasal irrigation and gargling for the common cold
Sandeep Ramalingam
学術研究
Journal of Medical Microbiology
2021
Sample collection and transport strategies to enhance yield, accessibility, and biosafety of COVID-19 RT-PCR testing
Banada et al.
学術研究
Heliyon
2020
Resveratrol plus carboxymethyl-β-glucan in infants with common cold: A randomized double-blind trial
Maria Elisabetta Baldassarre
学術研究
Influenza and Other Respiratory Viruses
2019
Feasibility study for the use of self‐collected nasal swabs to identify pathogens among participants of a population‐based surveillance system for acute respiratory infections (GrippeWeb‐Plus)—Germany, 2016
Joana M. Haussig, Angelina Targosz, Susanne Engelhart, Michael Herzhoff, Kerstin Prahm, Silke Buda, Andreas Nitsche, Walter Haas, Udo Buchholz
学術研究
Virology Journal
2021
How home anterior self-collected nasal swab simplifies SARS-CoV-2 testing: new surveillance horizons in public health and beyond
Silvia Ricci, Lorenzo Lodi, Francesco Citera, Francesco Nieddu, Maria Moriondo, Valentina Guarnieri, Mattia Giovannini, Giuseppe Indolfi, Massimo Resti, Alberto Zanobini, Chiara Azzari
学術研究
PLoS One
2020
SARS-CoV-2 detection in setting of viral swabs scarcity: Are MRSA swabs and viral swabs equivalent?
Daniel G. Federman , Shaili Gupta,Gary Stack, Sheldon M. Campbell, David R. Peaper, Louise M. Dembry, Ann Fisher, Asim F. Tarabar, Michael Kozal, Christopher B. Ruser
学術研究
BMC Veterinary Research
2018
Temporary carriage of bovine coronavirus and bovine respiratory syncytial virus by fomites and human nasal mucosa after exposure to infected calves
Veslemøy Sunniva Oma, Thea Klem, Madeleine Tråvén, Stefan Alenius, Britt Gjerset, Mette Myrmel, Maria Stokstad
学術研究
American Society for Clinical Pathology
2017
Performance of the cobas MRSA/SA Test for Simultaneous Detection of Methicillin-Susceptible and Methicillin-Resistant Staphylococcus aureus From Nasal Swabs
Lace R. Peterson