应用手册 (英文)
Respiratory Infections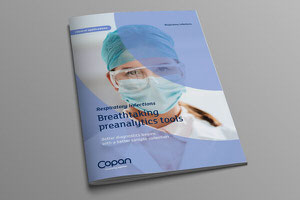 产品信息 (英文)
UTM®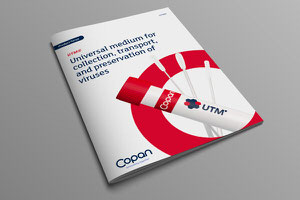 科学研究
Journal of Infection and Chemotherapy
2021
The evaluation of a novel digital immunochromatographic assay with silver amplification to detect SARS-CoV-2
Yoko Kurihara et al.
科学研究
BMC Virology journal
2018
The role of human Metapneumovirus genetic diversity and nasopharyngeal viral load on symptom severity in adults
Xiang Yong Oong, Jack Bee Chook, Kim Tien Ng, Wei Zhen Chow, Kok Gan Chan, Nik Sherina Hanafi, Yong Kek Pang, Yoke Fun Chan, Adeeba Kamarulzaman, Kok Keng Tee
科学研究
The Lancet Microbe
2021
Comparison of seven commercial SARS-CoV-2 rapid point-of-care antigen tests: a single-centre laboratory evaluation study
Victor M Corman, Verena Claudia Haage, Tobias Bleicker, Marie Luisa Schmidt, Barbara Mühlemann, Marta Zuchowski, Wendy K Jo, Patricia Tscheak, Elisabeth Möncke-Buchner, Marcel A Müller, Andi Krumbholz, Prof Jan Felix Drexler, Prof Christian Drosten
科学研究
Journal of Clinical Virology
2021
Evaluation of an antigen-based test for hospital point-of-care diagnosis of SARS-CoV-2 infection
Gabriele Bianco, Matteo Boattini, Anna Maria Barbui, Gitana Scozzari, Franco Riccardini, Maurizio Coggiola, Enrico Lupia, Rossana Cavallo, Cristina Costa
科学研究
PLoS One
2020
Pneumococcal colonization prevalence and density among Thai children with severe pneumonia and community controls
Barameht Piralam, Christine Prosperi, Somsak Thamthitiwat, Charatdao Bunthi, Pongpun Sawatwong, Ornuma Sangwichian, Melissa M. Higdon, Nora L. Watson, Maria Deloria Knoll, Wantana Paveenkittiporn, Chuwattana Chara, Cameron P. Hurst, Pasakorn Akarasewi, Julia Rhodes, Susan A. Maloney, Katherine L. O'Brien, Henry C. Baggett
科学研究
Virology Journal
2020
Efficient SARS-CoV-2 detection in unextracted oro-nasopharyngeal specimens by rRT-PCR with the Seegene Allplex™ 2019-nCoV assay
Wesley Freppel, Natacha Merindol, Fabien Rallu, Marco Bergevin
科学研究
Japanese Journal of Infectious Diseases
2019
Laboratory Evaluation of Rapid Antigen Detection Tests for More-Sensitive Detection of Respiratory Syncytial Virus Antigen
Yu Sun, Jie Deng, Yuan Qian, Runan Zhu, Fang Wang, Run Tian, Ri De, Linqing Zhao
科学研究
Journal of Clinical Microbiology
2019
Molecular Subtyping of Human Rhinovirus in Children from Three Sub-Saharan African Countries
Vicky L. Baillie, David P. Moore, Azwifarwi Mathunjwa, Palesa Morailane, Eric A. F. Simões, Shabir A. Madhi
科学研究
Journal of Clinical Microbiology
2019
PCR Detection of Respiratory Pathogens in Asymptomatic and Symptomatic Adults
Nicklas Sundell, Lars-Magnus Andersson, Robin Brittain-Long, Pär-Daniel Sundvall, Åsa Alsiö, Magnus Lindh, Lars Gustavsson, Johan Westin
科学研究
Journal of Clinical Microbiology
2019
Clinical Impact of Rapid Point-of-Care PCR Influenza Testing in an Urgent Care Setting: a Single-Center Study
Robert C. Benirschke, Erin McElvania, Richard B. Thomson Jr., Karen L. Kaul, and Sanchita Das
科学研究
Journal of Clinical Microbiology
2015
Isothermal Detection of Mycoplasma pneumoniae Directly from Respiratory Clinical Specimens
Brianna L. Petrone, Bernard J. Wolff, Alexandra A. DeLaney, Maureen H. Diaz, and Jonas M. Winchell
科学研究
BioMed Research International
2016
Human Bocavirus in Korean Children with Gastroenteritis and Respiratory Tract Infections
Eun Jin Lee
科学研究
Journal of Clinical Microbiology
2020
Clinical Evaluation of the cobas SARS-CoV-2 Test and a Diagnostic Platform Switch during 48 Hours in the Midst of the COVID-19 Pandemic
Mario Poljak, Miša Korva, Nataša Knap Gašper, Kristina Fujs Komloš, Martin Sagadin, Tina Uršič, Tatjana Avšič Županc, Miroslav Petrovec
科学研究
The Laryngoscope
2020
Identification of Viruses in Patients With Postviral Olfactory Dysfunction by Multiplex Reverse-Transcription Polymerase Chain Reaction
Jun Tian MD, Jayant M. Pinto MD, Li Li MD, Sanmei Zhang MD, Zhifu Sun MD, Yongxiang Wei MD
科学研究
Clinical Microbiology and infection
2020
Saliva collected in universal transport media is an effective, simple and high-volume amenable method to detect SARS-CoV-2
Byron M. Berenger, John M. Conly, Kevin Fonseca, Jia Hu, Thomas Louie, Angela R. Schneider, Takshveer Singh, William Stokes, Linda Ward, Nathan Zelyas
科学研究
PeerJ
2021
Evaluation of two fluorescence immunoassays for the rapid detection of SARS-CoV-2 antigen—new tool to detect infective COVID-19 patients
Lorena Porte​, Paulette Legarraga, Mirentxu Iruretagoyena, Valeska Vollrath, Gabriel Pizarro, Jose Munita, Rafael Araos, Thomas Weitzel​
科学研究
Genomics
2021
ACoRE: Accurate SARS-CoV-2 genome reconstruction for the characterization of intra-host and inter-host viral diversity in clinical samples and for the evaluation of re-infections
Luca Marcolungo, Cristina Beltrami , Chiara Degli Esposti, Giulia Lopatriello, Chiara Piubelli, Antonio Mori, Elena Pomari, Michela Deiana, Salvatore Scarso, Zeno Bisoffi, Valentina Grosso, Emanuela Cosentino, Simone Maestri, Denise Lavezzari, Barbara Iadarola, Marta Paterno, Elena Segala, Barbara Giovannone, Martina Gallinaro, Marzia Rossato, Massimo Delledonne
科学研究
Virology Journal
2021
How home anterior self-collected nasal swab simplifies SARS-CoV-2 testing: new surveillance horizons in public health and beyond
Silvia Ricci, Lorenzo Lodi, Francesco Citera, Francesco Nieddu, Maria Moriondo, Valentina Guarnieri, Mattia Giovannini, Giuseppe Indolfi, Massimo Resti, Alberto Zanobini, Chiara Azzari
科学研究
Frontiers in Pediatrics
2021
Low Rate of SARS-CoV-2 Infections in Symptomatic Patients Attending a Pediatric Emergency Department
Christoph Zurl, Ernst Eber, Anna Siegl, Sabine Loeffler, Evelyn Stelzl, Harald H. Kessler, Markus Egger, Nina A. Schweintzger, Werner Zenz, Volker Strenger
科学研究
Journal of Clinical Microbiology
2020
Evaluation of Transport Media and Specimen Transport Conditions for the Detection of SARS-CoV-2 by Use of Real-Time Reverse Transcription-PCR
Amy A. Rogers, Russell E. Baumann, Gwynngelle A. Borillo, Ron M. Kagan, Hollis J. Batterman, Marzena M. Galdzicka, Elizabeth M. Marlowe
科学研究
Human vaccines & immunotherapeutics
2016
Antibody response to respiratory syncytial virus infection in children <18 months old
Esposito S
科学研究
Annals of Laboratory Medicine
2017
Evaluation of Allplex Respiratory Panel 1/2/3 Multiplex Real-Time PCR Assays for the Detection of Respiratory Viruses with Influenza A Virus subtyping
Jaehyeon Lee
科学研究
Diagnostic Microbiology and Infectious Disease
2021
Practical strategies for SARS-CoV-2 RT-PCR testing in resource-constrained settings
Meredith S. Muller et al.
科学研究
BMC Infectious Diseases
2017
Performance of the Alere i RSV assay for point-of-care detection of respiratory syncytial virus in children
Sarah Valerie Schnee
科学研究
Viruses
2021
Symptomatic SARS-CoV-2 Reinfection in a Healthy Healthcare Worker in Italy Confirmed by Whole-Genome Sequencing
Daniela Loconsole et al.
科学研究
Virology Journal
2021
Excellent option for mass testing during the SARS‑CoV‑2 pandemic: painless self‑collection and direct RT‑qPCR
Eva Kriegova et al.
科学研究
Infection
2021
Self‑sampling versus health care professional‑guided swab collection for SARS‑CoV‑2 testing
Silvia Würstle
科学研究
Frontiers in genetics
2019
Age-Dependent Dissimilarity of the Nasopharyngeal and Middle Ear Microbiota in Children with Acute Otitis Media
Silvio D Brugger
科学研究
Plos One
2016
Nasopharyngeal Pneumococcal Carriage among Healthy Children in Cyprus Post Widespread Simultaneous Implementation of PCV10 and PCV13 Vaccines
Adamos Hadjipanayis
科学研究
Emerging Infectious Diseases
2021
Postmortem Stability of SARS-CoV-2 in Nasopharyngeal Mucosa
Fabian Heinrich
科学研究
BMC Microbiology
2021
Combined oropharyngeal/nasal swab is equivalent to nasopharyngeal sampling for SARS-CoV-2 diagnostic PCR
Tania Desmet
科学研究
GMS Hygiene and Infection Control
2021
Comparison of pre-analytical characteristics for molecular and serological diagnostics of COVID-19
Ralph Wendt
科学研究
PLoS One
2018
Increased carriage of non-vaccine serotypes with low invasive disease potential four years after switching to the 10-valent pneumococcal conjugate vaccine in The Netherlands
Marloes Vissers
科学研究
The Journal of Molecular Diagnostics
2021
Comparison of Two Commercial Platforms and a Laboratory-Developed Test for Detection of Severe Acute Respiratory Syndrome Coronavirus 2 (SARS-CoV-2) RNA
Mannonen L.
科学研究
Frontiers in Microbiology
2021
Detection of Microbial Agents in Oropharyngeal and Nasopharyngeal Samples of SARS-CoV-2 Patients
Tyler Seckar
科学研究
Diagnostic Microbiology and Infectious Disease
2021
Evaluation of the BioFire® COVID-19 test and Respiratory Panel 2.1 for rapid identification of SARS-CoV-2 in nasopharyngeal swab samples
Eric J.Eckbo
科学研究
Sultan Qaboos University Med Journal
2020
Nasopharyngeal Isolates from a Cohort of medical students with or without pharyngitis
Hassib Narchi
科学研究
Emerging Infectious Diseases
2020
Pooling Upper Respiratory Specimens for Rapid Mass Screening of COVID-19 by Real-Time RT-PCR
So Yeon Kim
科学研究
Preprint status
2020
Robust and sensitive detection of SARS-CoV-2 using PCR based methods
Changwoo Park
科学研究
Clinical Microbiology and Infection
2018
Prevalence and clinical significance of respiratory viruses and bacteria detected in tuberculosis patients compared to household contact controls in Tanzania: a cohort study
Mhimbira F.
科学研究
Infectious Diseases
2020
Comparative Analysis of Primer−Probe Sets for RT-qPCR of COVID19 Causative Virus (SARS-CoV-2)
Yujin Jung
科学研究
European Journal of Radiology
2020
Chest CT accuracy in diagnosing COVID-19 during the peak of the Italian epidemic: A retrospective correlation with RT-PCR testing and analysis of discordant cases
Zeno Falaschi
科学研究
Diagnostic Microbiology and Infectious Disease
2020
Comparison of Two Commercial Platforms and a Laboratory-Developed Test for Detection of Severe Acute Respiratory Syndrome Coronavirus 2 (SARS-CoV-2) RNA
Richard J. Drew
科学研究
Scientific Reports
2020
Assessment of the direct quantitation of SARS-CoV-2 by droplet digital PCR
Michela Deiana, Antonio Mori, Chiara Piubelli, Salvatore Scarso, Mosè Favarato, Elena Pomari
视频 (英文)
Nasopharyngeal Collection with FLOQSwabs® and UTM®
A proper nasopharyngeal specimen sampling is crucial for a correct diagnosis of respiratory tract infections, including COVID-19. To help the collection of SARS-CoV-2 in compliance with CDC and WHO guidelines, we created this how-to educational video.