手册 (英文)
FLOQ® Technology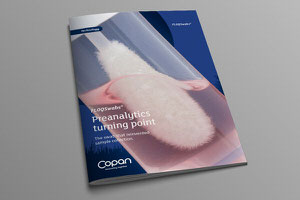 应用手册 (英文)
Molecular Biology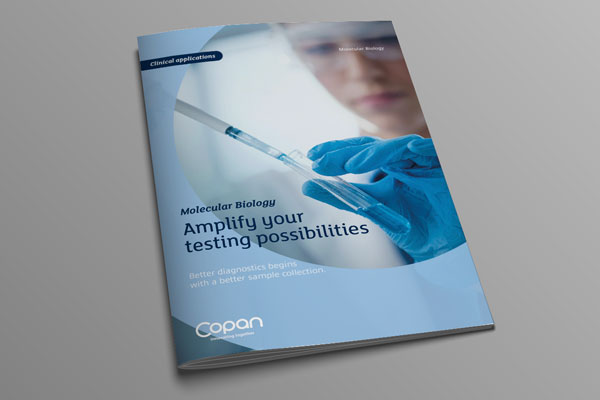 手册 (英文)
NUCLEIC-CARD™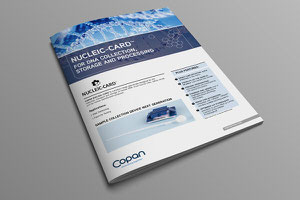 订购信息 (英文)
FLOQSwabs®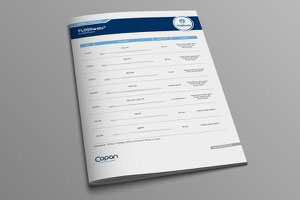 订购信息 (英文)
NUCLEIC-CARD™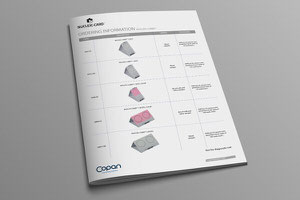 科学手册 (英文)
Booklet STIs & HPV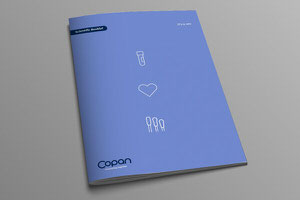 科学研究
Journal of Clinical Virology
2022
Screening for cytomegalovirus shedding in vagina and saliva: Significant differences between biological fluids, swab types and storage durations in DNA recovery
Ngee Keong Tan et al.
科学研究
Frontiers in Pediatrics
2021
Low Rate of SARS-CoV-2 Infections in Symptomatic Patients Attending a Pediatric Emergency Department
Christoph Zurl, Ernst Eber, Anna Siegl, Sabine Loeffler, Evelyn Stelzl, Harald H. Kessler, Markus Egger, Nina A. Schweintzger, Werner Zenz, Volker Strenger
科学研究
Open Research Europe
2022
Human papillomavirus (HPV) detection in vaginal self-samples: evaluation of eNat® as an alternative suspension medium to ThinPrep®PreservCyt® for vaginal swabs
Chiara Giubbi et al.
科学研究
Journal of Translation Medicine
2022
Clinical validation of full HR HPV genotyping HPV Selfy assay according to the international guidelines for HPV test requirements for cervical cancer screening on clinician collected and self collected samples
Alice Avian et al.
科学研究
Viruses
2022
Characterization of Vaccine Breakthrough Cases during Measles Outbreaks in Milan and Surrounding Areas, Italy, 2017–2021
Silvia Bianchi et al.
科学研究
Journal of Hospital Infection
2022
Multidrug-resistant OXA-48/CTX-M-15 Klebsiella pneumoniae cluster in a COVID-19 Intensive Care Unit: Salient lessons for infection prevention and control during the COVID-19 pandemic
Annaleise R. Howard-Jones et al.
科学研究
Journal of Clinical Microbiology
2018
Mismatch Amplification Mutation Assay-Based Real-Time PCR for Rapid Detection of Neisseria gonorrhoeae and Antimicrobial Resistance Determinants in Clinical Specimens
Valentina Donà, Joost H. Smid, Sara Kasraian, Dianne Egli-Gany, Ferah Dost, Fatime Imeri, Magnus Unemo, Nicola Low, Andrea Endimiani
科学研究
PLoS One
2018
Prevalence of oropharyngeal group B Streptococcus colonization in mothers, family, and health care providers
Kristina Roloff, Gohar Stepanyan, Guillermo Valenzuela
科学研究
BMC Veterinary Research
2018
Temporary carriage of bovine coronavirus and bovine respiratory syncytial virus by fomites and human nasal mucosa after exposure to infected calves
Veslemøy Sunniva Oma, Thea Klem, Madeleine Tråvén, Stefan Alenius, Britt Gjerset, Mette Myrmel, Maria Stokstad
科学研究
Frontiers in cellular and infection Microbiology
2018
Exploring the Microbiota of Diabetic Foot Infections With Culturomics
Joanne Jneid, Nadim Cassir, Sophie Schuldiner, Nathalie Jourdan, Albert Sotto, Jean-Philippe Lavigne, Bernard La Scola
科学研究
BMC Ophthalmology
2018
Preoperative preparation of eye with chlorhexidine solution significantly re-duces bacterial load prior to 23-gauge vitrectomy in Swedish health care
Nasser J. Gili, Torbjörn Noren, Eva Törnquist, Sven Crafoord, Anders Bäckman
科学研究
PLoS One
2019
Comparison of BD MAX GBS and GenomEra GBS assays for rapid intrapartum PCR detection of vaginal carriage of group B streptococci
Trine Andreasen, Jens Kjølseth Møller, Mohammed Rohi Khalil
科学研究
Heliyon
2019
Comparison of collection methods for molecular detection of α-herpes viruses and Treponema pallidum, including evaluation of critical transportation conditions
Pieter W. Smit, Titia Heijman, Meriem el Abdallaoui, Sylvia M. Bruisten
科学研究
Frontiers in cellular and infection Microbiology
2019
Evaluation of Methods for the Extraction of Microbial DNA From Vaginal Swabs Used for Microbiome Studies
Valentina Mattei, Selvasankar Murugesan, Muna Al Hashmi, Rebecca Mathew, Nicola James, Parul Singh, Manoj Kumar, Arun Prasath Lakshmanan, Annalisa Terranegra, Souhaila Al Khodor, Sara Tomei
科学研究
mSphere
2019
Laryngotracheal Microbiota in Adult Laryngotracheal Stenosis
Alexander T Hillel, Sharon S Tang, Camila Carlos, Joseph H Skarlupka, Madhu Gowda, Linda X Yin, Kevin Motz, Cameron R Currie, Garret Suen, Susan L Thibeault
科学研究
Journal of Clinical Microbiology
2019
Recovery of Nontuberculous Mycobacteria and Nocardiae Causing Skin/Soft Tissue Infections by Use of the Copan ESwab Collection and Transport System
B. Gandhi, G. Woods, T. Mazzulli
科学研究
Virology Journal
2021
How home anterior self-collected nasal swab simplifies SARS-CoV-2 testing: new surveillance horizons in public health and beyond
Silvia Ricci, Lorenzo Lodi, Francesco Citera, Francesco Nieddu, Maria Moriondo, Valentina Guarnieri, Mattia Giovannini, Giuseppe Indolfi, Massimo Resti, Alberto Zanobini, Chiara Azzari
科学研究
BMC Microbiology
2021
Oropharynx microbiota transitions in hypopharyngeal carcinoma treatment of induced chemotherapy followed by surgery
Hui‑Ching Lau et al.
科学研究
Viruses
2021
Symptomatic SARS-CoV-2 Reinfection in a Healthy Healthcare Worker in Italy Confirmed by Whole-Genome Sequencing
Daniela Loconsole et al.
科学研究
Public Health in Practise
2021
Sports balls as potential SARS-CoV-2 transmission vectors
Michel Pelisser et al.
科学研究
Clinical Chemistry and Laboratory Medicine
2021
Performance evaluation of an automated SARS-CoV-2 Ag test for the diagnosis of COVID-19 infection on nasopharyngeal swabs
Cedric Hartard et al.
科学研究
Journal of Infection and Chemotherapy
2021
The evaluation of a novel digital immunochromatographic assay with silver amplification to detect SARS-CoV-2
Yoko Kurihara et al.
科学研究
American Journal of Otolaryngology
2021
Clinical, virological and immunological evolution of the olfactory and gustatory dysfunction in COVID-19
Eugenia Maiorano et al.
科学研究
Animals
2021
Prevalence of BRD-Related Viral Pathogens in the Upper Respiratory Tract of Swiss Veal Calves
Eveline Studer et al.
科学研究
Infectious Diseases and Therapy
2021
Early Start of Oral Clarithromycin Is Associated with Better Outcome in COVID-19 of Moderate Severity: The ACHIEVE Open-Label Single-Arm Trial
Konstantinos Tsiakos et al.
科学研究
Scientific Reports
2021
Immune cell residency in the nasal mucosa may partially explain respiratory disease severity across the age range
Konner Winkley et al.
科学研究
Frontiers in cellular and infection Microbiology
2021
Assessment of the Diagnostic Ability of Four Detection Methods Using Three Sample Types of COVID-19 Patients
Fei Yu et al.
科学研究
Viruses
2021
Efficacy of Unsupervised Self-Collected Mid-Turbinate FLOQSwabs for the Diagnosis of Coronavirus Disease 2019 (COVID-19)
Egildo Luca D'andrea et al.
科学研究
Journal of Medical Microbiology
2021
Sample collection and transport strategies to enhance yield, accessibility, and biosafety of COVID-19 RT-PCR testing
Banada et al.
科学研究
PLoS One
2021
Human papillomavirus 16 L1 gene methylation as a potential biomarker for predicting anal intraepithelial neoplasia in men who have sex with men (MSM)
Chaiwongkot et al.
科学研究
Antimicrobial Resistance & Infection control
2021
Clonal spread of carbapenem-resistant Klebsiella pneumoniae among patients at admission and discharge at a Vietnamese neonatal intensive care unit
Björn Berglund et al.
科学研究
Microbiology Open
2021
Comparison of swab types for collection and analysis of microorganisms
Natalie M. Wise et al.
科学研究
Healthcare
2022
Comparison of Different Self‐Sampling Devices for Molecular Detection of Human Papillomavirus (HPV) and Other Sexually Transmitted Infections (STIs): A Pilot Study
Ilaria Sechi et al.
视频 (英文)
Nasopharyngeal Collection with FLOQSwabs® and UTM®
A proper nasopharyngeal specimen sampling is crucial for a correct diagnosis of respiratory tract infections, including COVID-19. To help the collection of SARS-CoV-2 in compliance with CDC and WHO guidelines, we created this how-to educational video.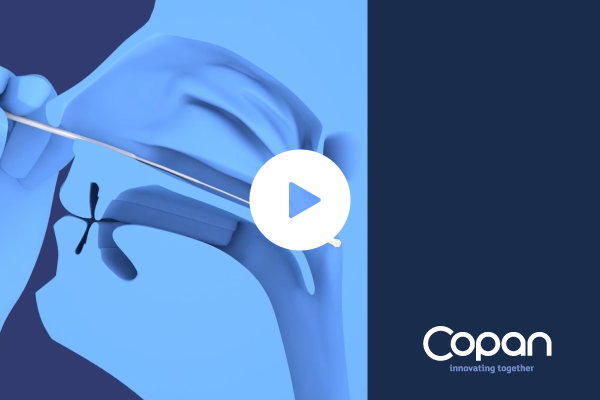 视频 (英文)
FLOQSwabs® VS Cotton Swab
FLOQSwabs® consist of a customizable molded plastic shaft and a tip coated with perpendicular short Nylon® fibers. Thanks to the superior elution efficiency, FLOQSwabs® ensure a flawless specimen collection, expanding downstream testing capabilities. Check in this video FLOQSwabs® adsorption and elution efficiency compared to standard cotton swabs!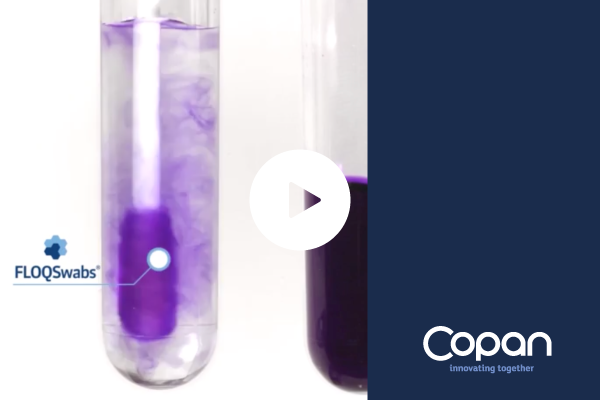 技术
FLOQ® Technology
FLOQ®技术满足了医护人员对更有效的样本采集的需求。FLOQ®使用我们专利的Nylon®纤维排列技术,从而极大地提高了产品性能,将采样提升至一个新的水平。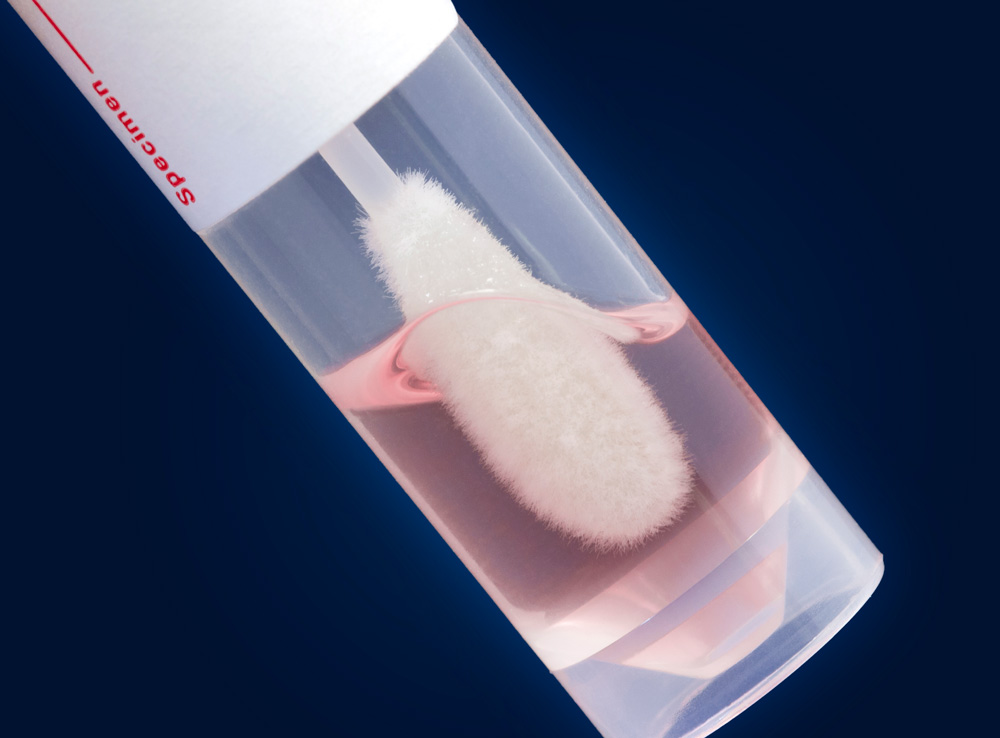 产品
eSwab®
多用途采集和运输系统
eSwab®是Copan的液体Amies洗脱拭子,其采集和运输试剂盒是我们的多用途培养基,用于采集和运输含有需氧菌、厌氧菌、苛养菌、病毒和衣原体的临床样本。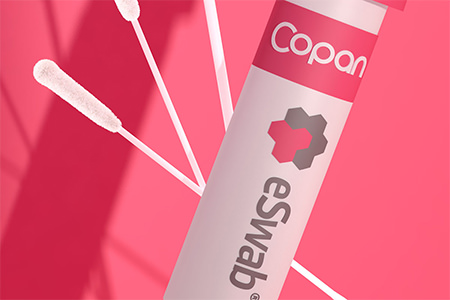 产品
hDNAFreeFLOQSwabs®
用于遗传学领域的无创、无痛且安全的DNA样本采集盒
hDNAfreeFLOQSwabs®是一系列专用于基因应用DNA采集的产品。hDNAFLOQSwabs®不含可扩增的人类DNA和可检测的DNase和RNase,是一种无创、无痛且具有成本效益的产品。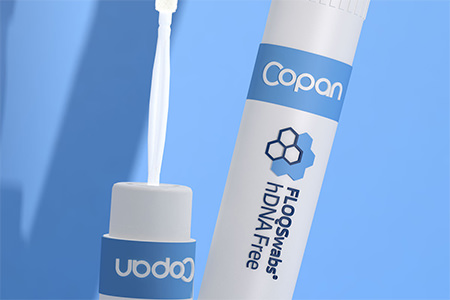 产品
Self Vaginal FLOQSwabs®
用于在家中自行采集阴道样本的自行采集盒
Self Vaginal FLOQSwabs®安全、舒适、易于使用,允许女性在家采集样本进行HPV和STI筛查。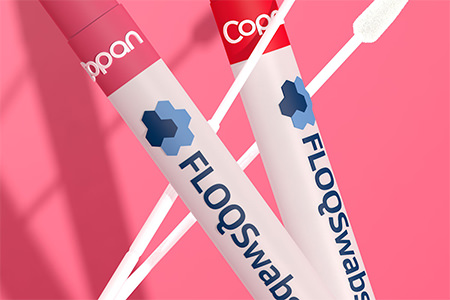 产品
SMART-eNAT®
核酸保存培养基智能输送系统
SMART-eNAT®将eNAT®与独特的SMART管盖输送系统相结合,可确保安全高效的核酸采集和长时间运输。SMART采集后高性能且直观的管盖可避免任何溢出或不必要的接触,便于在家中进行自行采样。