Cyclone
September 13, 2023
In 2020, the Italian headquarters of Mérieux NutriSciences hosted one of the first installations of the Copan Newlab Cyclone. This milestone project highlighted the cutting-edge capabilities of Cyclone's automated workflow and pointed up the power of collaboration and knowledge exchange in shaping its evolution.
A Journey of Innovation and Cooperation
It all started when Mérieux NutriSciences, a global leader in food quality control, recognized the need for a quality control solution to address the dynamic demands of the modern food production industry. Thus, thanks to a solid collaboration with Copan, the company embarked on a journey to implement Cyclone in its workflow.
At the heart of this project was the spirit of cooperation. Mérieux NutriSciences and Copan teams worked hand in hand, merging their expertise and insights to seamlessly integrate the Cyclone system into the workflow of the Mérieux NutriSciences's Italian headquarters. This close cooperation fostered an environment of mutual learning, enabling both teams to refine and tailor the system's functionalities to the Mérieux NutriSciences's specific needs: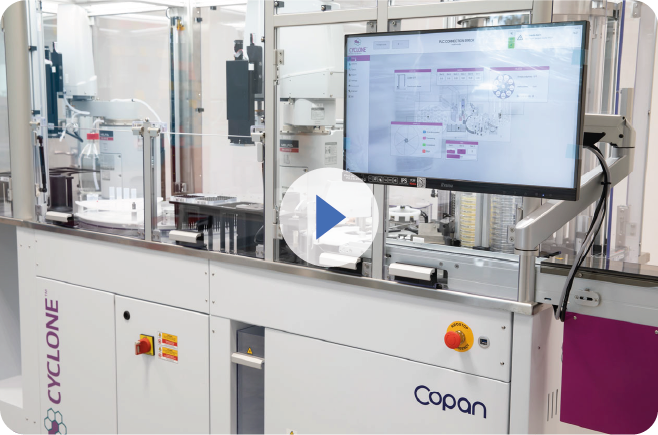 Shaping the Present and Future of Food Industry Quality Control
The successful installation of Cyclone at Mérieux NutriSciences marked a profound turning point for the quality control workflow of the laboratory. The project's success demonstrated how innovative solutions like Cyclone could be harnessed to streamline and enhance QA processes across the nation's food producers. Implementing Copan's Cyclone allowed Mérieux NutriSciences to take advantage of a reliable solution helping them manage large volumes of samples, even of different matrices.  Moreover, by reducing errors and enhancing standardization and reproducibility 24/7, Cyclone shortened Mérieux NutriSciences' time-to-results, ensured workflow scalability during high-volume shifts, and empowered lab staff to focus on essential activities.
Unparalleled Quality Control Services Nationwide
As a direct result of this collaboration, Mérieux NutriSciences today boasts an unparalleled quality control service, made possible by the advanced capabilities of Cyclone: its implementation ensured not only the safety and compliance of products but also the optimization of production and QA processes.
This landmark case history showcases how a shared vision and dedicated teamwork can yield transformative outcomes, leaving an indelible mark on the quality control and food safety sector. The story of Mérieux NutriSciences and Copan's Cyclone is about visionaries pushing boundaries, experts collaborating seamlessly, and two companies committed to excellence aiming at elevating quality control standards in the food industry.