Application Brochure
Clinical Automation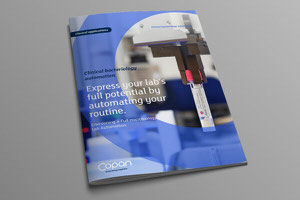 Scientific Study
ECCMID
2019
Colibrí® and Bruker MALDI-TOF: does the identification performance change when different chromogenic media are used for urine culture?
Michela Paolucci, Laura Navarria, Santina Castriciano
Scientific Study
ASM
2019
Copan Colibrí® , an innovative fully automated instrument for Clinical Microbiology Laboratory
A. Bielli, V. Lepera, S. Torri, A. Nava, G. Lombardi, C.F. Perno, C. Vismara
Scientific Study
RICAI
2019
Evaluation des performances du préleveur automatique de colonies Colibrí®
A. Roch , G. Teissier, R. Fournier, P. Mion, T. Bayol, J. Bayette
Scientific study
Journal of Clinical Microbiology
2021
Performance of Fully Automated Antimicrobial Disk Diffusion Susceptibility Testing Using Copan WASP Colibri coupled to Radian in-Line Carousel and Expert System
Abdessalam Cherkaoui et al.
Scientific Booklet
Booklet Clinical Automation