Product
FecalSwab™
FecalSwab™ is intended to collect fecal specimens and preserve enteric pathogenic bacteria's viability to be processed using standard clinical laboratory operating procedures for culture.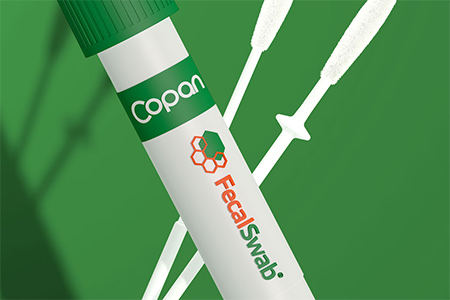 Application
Gastrointestinal Infections
A successful forensic investigation begins with a proper sample, and proper samples are obtained using the appropriate collection method.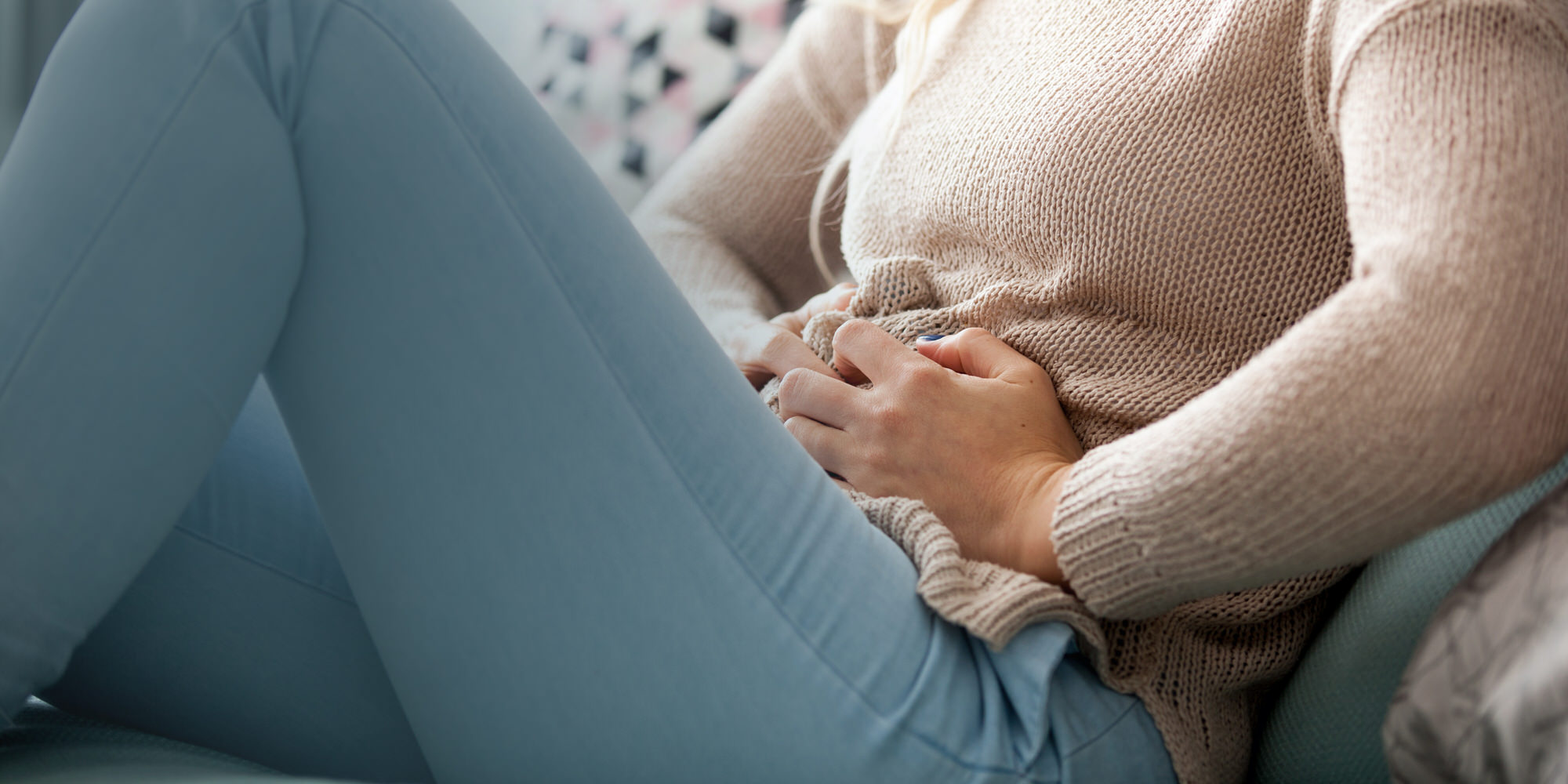 Product Focus
FecalSwab™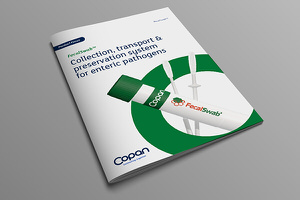 Scientific study
Journal of Clinical Microbiology
2015
Evaluation of factors affecting real-time PCR performance for diagnosis of Entamoeba histolytica and Entamoeba dispar in clinical stool samples
Joakim Forsell​, Satu Koskiniemi​, Ida Hedberg​, Helén Edebro​, Birgitta Evengård​, Margareta Granlund​
Scientific study
Diagnostic Microbiology and Infectious Disease
2020
Evaluation of Copan FecalSwab™ preserved stool specimens with the BD MAX™ Enteric Bacterial Panel and the BD MAX™ Extended Enteric Bacterial Panel
Hanen Fernandez Rojas
Scientific study
Journal of Global Health
2019
Child development, growth and microbiota: fol-low-up of a randomized education trial in Uganda
Prudence Atukunda
Scientific study
International Journal of Pediatrics
2017
Case-Control Pilot Study on Acute Diarrheal Dis-ease in a Geographically Defined Pediatric Population in a Middle-Income Country
Ana E Farfán-García
Scientific study
The ISME Journal
2015
The initial state of the human gut microbiome deter-mines its reshaping by antibiotics
Frédéric Raymond
Scientific study
Plos One
2019
High prevalence of multidrug resistant Enterobacteriaceae among residents of long term care facilities in Amsterdam, the Netherlands
Eline van Dulm
Scientific study
Journal of Clinical Microbiology
2020
Prospective Evaluation of the mariPOC Test for Detection of Clostridioides difficile Glutamate Dehydrogenase and Toxins A/B
Roosa Savolainen
Scientific study
Microorganisms
2020
Limited Genetic Diversity of blaCMY-2-Containing IncI1-pST12 Plasmids from Enterobacteriaceae of Human and Broiler Chicken Origin in The Netherlands
Evert P. M. den Drijver
Scientific study
Microbiology and infectious disease
2019
Evaluating the preservation and isolation of stool pathogens using the COPAN FecalSwab™ Transport System and Walk-Away Specimen Processor
Lee W Goneau
Scientific study
Journal of Clinical Microbiology
2019
Evaluation of Anatomically Designed Flocked Rectal Swabs for Use with the BioFire FilmArray Gastrointestinal Panel for Detection of Enteric Pathogens in Children Admitted to Hospital with Severe Gastroenteritis
Celia R. Walker
Scientific study
Plos One
2018
Nonaplex PCR using Cliffhanger primers to identify diarrhoeagenic Escherichia coli from crude lysates of human faecal samples
Uffe Vest Schneider
Scientific study
Journal of Clinical Microbiology
2017
Evaluation of Copan FecalSwab as Specimen Type for Use in Xpert C. difficile Assay
Michael J. Mashock
Scientific study
Critical Care Exploration
2021
Decreased Intestinal Microbiome Diversity in Pediatric Sepsis: A Conceptual Framework for Intestinal Dysbiosis to Influence Immunometabolic Function
Scott L. Weiss
Scientific study
Diagnostic Microbiology and Infectious Disease
2020
Recovery of aerobic gram-negative bacteria from the Copan Eswab transport system after long-term storage.
Sofie C.M. Tops, Marlien Kolmus, Damy Wulms, Jakko van Ingen, Heiman F.L. Wertheim, Eva Kolwijck
Scientific study
Journal of Medical Internet Research
2017
Performance of a Mobile Phone App-Based Participatory Syndromic Surveillance System for Acute Febrile Illness and Acute Gastroenteritis in Rural Guatemala
Daniel Olson
Scientific study
The American Society of Tropical Medicine and Hygiene
2017
Rapid Active Sampling Surveys as a Tool to Evaluate Factors Associated with Acute Gastroenteritis and Norovirus Infection among Children in Rural Guatemala
Daniel Olson
Scientific study
Trials
2018
Short-course antimicrobial therapy for paediatric respiratory infections (SAFER): study protocol for a randomized controlled trial
Jeffrey Pernica
Scientific study
Journal of Clinical Microbiology
2020
Diagnostic Accuracy of a Noninvasive Test for Detection of Helicobacter pylori and Resistance to Clarithromycin in Stool by the Amplidiag H. pylori
Maxime Pichon
Scientific study
Microbiology Open
2020
Long-term stability of microbiome diversity and composition in fecal samples stored in eNAT medium
Rebecca R. Young
Scientific study
Clinical Infectious Diseases
2019
Each Additional Day of Antibiotics Is Associated With Lower Gut Anaerobes in Neonatal Intensive Care Unit Patients
Ashley M Rooney
Scientific study
JMIR Research Protocols
2020
Alterations of Gut Microbiota and the Brain-Immune-Intestine Axis in Patients With Relapsing-Remitting Multiple Sclerosis After Treatment With Oral Cladribine: Protocol for a Prospective Observational Study
Jeske van Pamelen
Scientific study
Journal of Clinical Microbiology
2020
Performance Evaluation of the Novodiag Bacterial GE+ Multiplex PCR Assay
Charly Roy
Scientific study
Open Forum Infectious Diseases
2017
A Rapid Epidemiological Tool to Measure the Burden of Norovirus Infection and Disease in Resource-Limited Settings
Daniel Olson
Scientific study
Diagnostic Microbiology and Infectious Disease
2020
Impact of freeze/thaw cycles and single freezing at −80 °C on the viability of aerobic bacteria from rectal swabs performed with the ESwabTM system
Rindala Salibaa, Jean Ralph Zahara, Fatma El Allaoui, Etienne Carbonnelle, Mathilde Lescat
Scientific study
Communications medicine
2022
Antibiotic-resistant organisms establish reservoirs in new hospital built environments and are related to patient blood infection isolates
Kimberley V Sukhum et al.
Fair
26-29 October 2021
Rotterdam, Netherlands
Booth:#Copan
Microbiome & Probiotics R&D & Business Collaboration Forum: Europe
The 8th Microbiome and Probiotics R&D and Business Collaboration Forum is Europe's longest-running and largest Microbiome meeting. It has an unrivaled reputation for attracting leading academics to present the newest available discoveries being made about microbiota and human health. With an equal measure of researchers from industry, this outstanding networking meeting was the place to learn, built new partnerships, and explore effective business and commercialization strategies.
Video
FecalSwab™
Collection, transport, and preservation device for enteric pathogens