Product
FecalSwab™
FecalSwab™ is intended to collect fecal specimens and preserve enteric pathogenic bacteria's viability to be processed using standard clinical laboratory operating procedures for culture.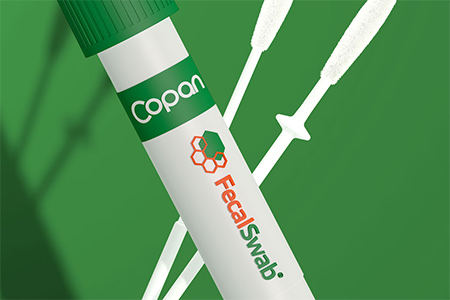 Application
Genetics & Microbiome
The rise of Multi Drug-Resistant Organisms has become a global health and economic concern, and tools to combat them are urgently needed.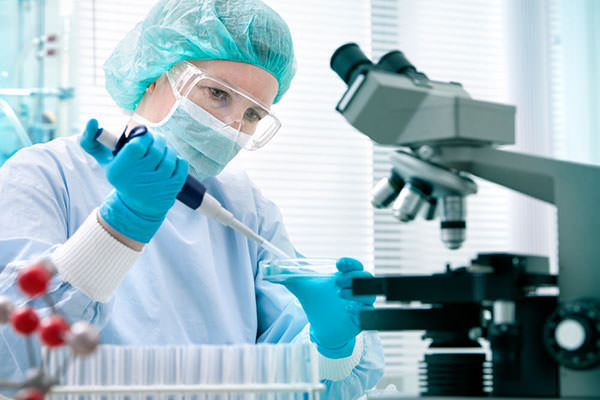 Product Focus
CLASSIQSwabs™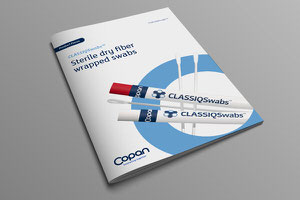 Product Focus
SMART-eNAT®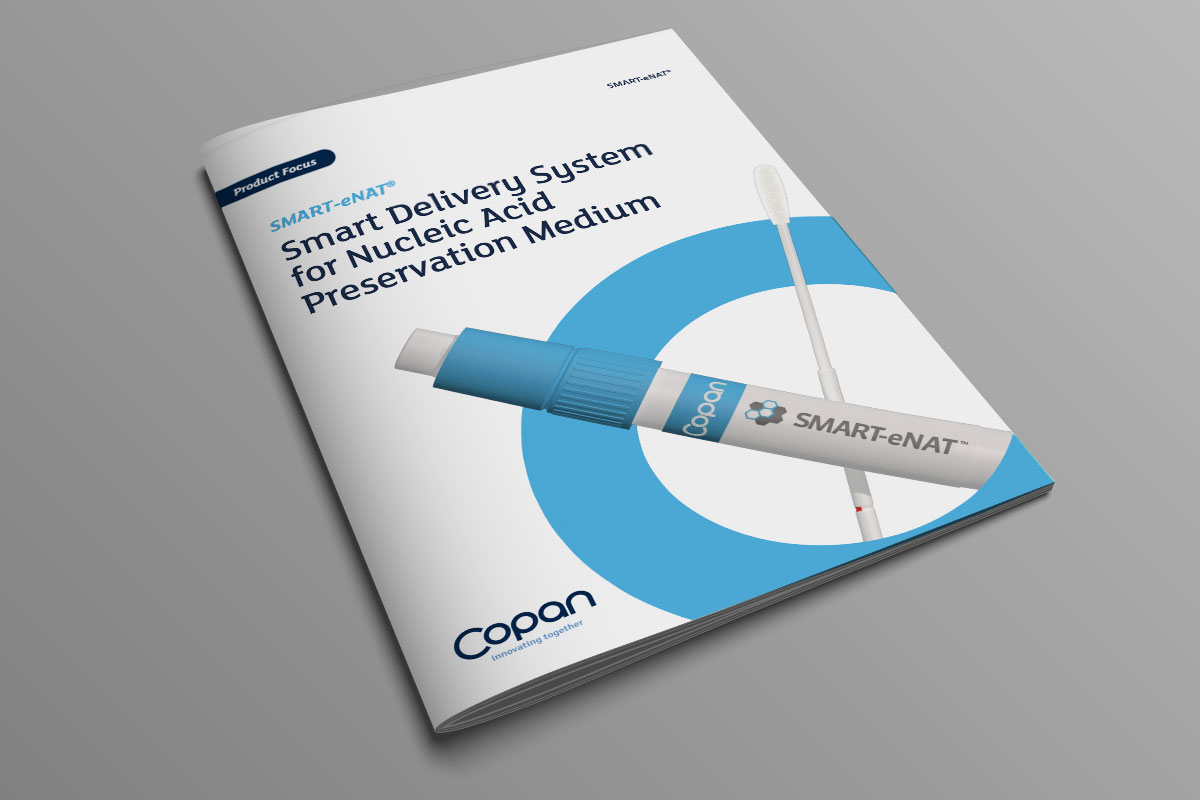 Application Brochure
Microbioma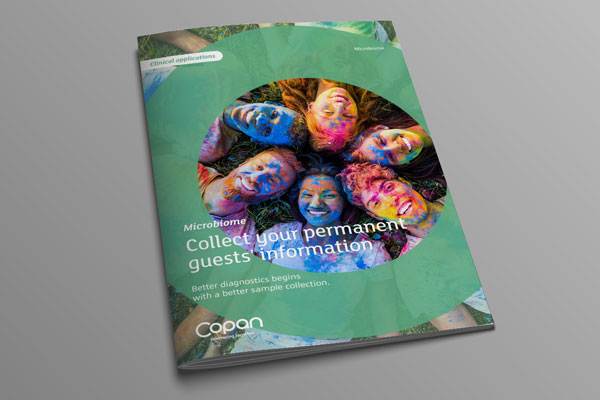 Scientific study
European Journal of Clinical Microbiology & Infectious Diseases
2018
Comparative phase I randomized open-label pilot clinical trial of Gynophilus® (Lcr regenerans®) immediate release capsules versus slow release muco-adhesive tablets
Caroline Dausset, Stéphane Patrier, Pawel Gajer, Claudia Thoral, Yann Lenglet, Jean-Michel Cardot, Philippe Judlin, Jacques Ravel, Adrien Nivoliez
Scientific study
BMC Pediatrics
2020
Early origins of allergy and asthma (ARIES): study protocol for a prospective prenatal birth cohort in Chile
Caroll D. Hernandez
Scientific study
Cancers
2023
Distinct Signatures of Tumor-Associated Microbiota and Metabolome in Low-Grade vs. High-Grade Dysplastic ColonPolyps: Inference of Their Role in Tumor Initiation and Progression
M. G. Clavenna et al
Scientific study
Frontiers in Microbiology
2023
Gut microbiome profiling of neonates using Nanopore MinION and Illumina MiSeq sequencing
Teahyen Cha et al
Scientific study
International Journal of Molecular Sciences
2022
Exploring the Healthy Eye Microbiota Niche in a Multicenter Study
Davide Borroni et al.
Scientific study
BMC Microbiology
2021
Oropharynx microbiota transitions in hypopharyngeal carcinoma treatment of induced chemotherapy followed by surgery
Hui‑Ching Lau et al.
Scientific study
Microbiology Open
2021
Comparison of swab types for collection and analysis of microorganisms
Natalie M. Wise et al.
Scientific study
ISME Communications
2021
Critical evaluation of faecal microbiome preservation using metagenomic analysis
Pribyl et al.
Scientific study
Journal of Global Health
2019
Child development, growth and microbiota: fol-low-up of a randomized education trial in Uganda
Prudence Atukunda
Scientific study
Scientific Reports
2019
Common skin bacteria protect their host from oxidative stress through secreted antioxidant RoxP
Tilde Andersson
Scientific study
Scientific Reports
2019
Common skin bacteria protect their host from oxidative stress through secreted antioxidant RoxP
Tilde Andersson
Scientific study
Frontiers in genetics
2019
Age-Dependent Dissimilarity of the Nasopharyngeal and Middle Ear Microbiota in Children with Acute Otitis Media
Silvio D Brugger
Scientific study
The ISME Journal
2015
The initial state of the human gut microbiome deter-mines its reshaping by antibiotics
Frédéric Raymond
Scientific study
Antimicrobial Resistance & Infection Control
2021
Vaginal colonization with antimicrobial-resistant bacteria among women in labor in central Uganda: prevalence and associated factors
Josephine Tumuhamye
Scientific study
Critical Care Exploration
2021
Decreased Intestinal Microbiome Diversity in Pediatric Sepsis: A Conceptual Framework for Intestinal Dysbiosis to Influence Immunometabolic Function
Scott L. Weiss
Scientific study
Frontiers in cellular and infection Microbiology
2019
Evaluation of Methods for the Extraction of Microbial DNA From Vaginal Swabs Used for Microbiome Studies
Valentina Mattei, Selvasankar Murugesan, Muna Al Hashmi, Rebecca Mathew, Nicola James, Parul Singh, Manoj Kumar, Arun Prasath Lakshmanan, Annalisa Terranegra, Souhaila Al Khodor, Sara Tomei
Scientific study
Heliyon
2021
Temporal oral microbiome changes with brushing in children with cleft lip and palate
Rita Rodrigues
Scientific study
Frontiers in Neurology
2020
Oral Health, Oral Microbiota, and Incidence of Stroke-Associated Pneumonia—A Prospective Observational Study
Fabian Cieplik
Scientific study
Scientific Reports
2019
The Endobiota Study: Comparison of Vaginal, Cervical and Gut Microbiota Between Women with Stage 3/4 Endometriosis and Healthy Controls
Baris Ata
Scientific study
PLoS One
2018
Contraceptive rings promote vaginal lactobacilli in a high bacterial vaginosis prevalence population: A randomised, open-label longitudinal study in Rwandan women
Tania Crucitti
Scientific study
Trials
2018
Short-course antimicrobial therapy for paediatric respiratory infections (SAFER): study protocol for a randomized controlled trial
Jeffrey Pernica
Scientific study
Cosmetics
2020
Effects of Fermented Oils on Alpha-Biodiversity and Relative Abundance of Cheek Resident Skin Microbiota
Tiziana Ciardiello
Scientific study
Journal of assisted reproduction and genetis
2020
Controlled ovarian stimulation and progesterone supplementation affect vaginal and endometrial microbiota in IVF cycles: a pilot study
Andrea Carosso
Scientific study
Microbiology Open
2020
Long-term stability of microbiome diversity and composition in fecal samples stored in eNAT medium
Rebecca R. Young
Scientific study
Clinical Infectious Diseases
2019
Each Additional Day of Antibiotics Is Associated With Lower Gut Anaerobes in Neonatal Intensive Care Unit Patients
Ashley M Rooney
Scientific study
JMIR Research Protocols
2020
Alterations of Gut Microbiota and the Brain-Immune-Intestine Axis in Patients With Relapsing-Remitting Multiple Sclerosis After Treatment With Oral Cladribine: Protocol for a Prospective Observational Study
Jeske van Pamelen
Scientific study
BMJ Open
2020
Microbiome Understanding in Maternity Study (MUMS), an Australian prospective longitudinal cohort study of maternal and infant microbiota: study protocol
Daniella Susic
Scientific study
Frontiers in cellular and infection Microbiology
2021
Vaginal Microbiota and Cytokine Levels Predict Preterm Delivery in Asian Women
Manoj Kumar, Selvasankar Murugesan, Parul Singh, Marwa Saadaoui, Duaa Ahmed Elhag, Annalisa Terranegra, Basirudeen Syed Ahamed Kabeer, Alexandra K. Marr, Tomoshige Kino, Tobias Brummaier, Rose McGready, François Nosten, Damien Chaussabel, Souhaila Al Khodor
Scientific study
mSphere
2019
Laryngotracheal Microbiota in Adult Laryngotracheal Stenosis
Alexander T Hillel, Sharon S Tang, Camila Carlos, Joseph H Skarlupka, Madhu Gowda, Linda X Yin, Kevin Motz, Cameron R Currie, Garret Suen, Susan L Thibeault
Scientific study
Frontiers in microbiology
2023
Touching the (almost) untouchable: a minimally invasive workflow for microbiological and biomolecular analyses of cultural heritage objects
Cecilia G. Flocco et al.
Scientific Booklet
Booklet Genetics & Microbiome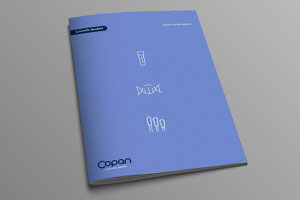 Fair
26-29 October 2021
Rotterdam, Netherlands
Booth:#Copan
Microbiome & Probiotics R&D & Business Collaboration Forum: Europe
The 8th Microbiome and Probiotics R&D and Business Collaboration Forum is Europe's longest-running and largest Microbiome meeting. It has an unrivaled reputation for attracting leading academics to present the newest available discoveries being made about microbiota and human health. With an equal measure of researchers from industry, this outstanding networking meeting was the place to learn, built new partnerships, and explore effective business and commercialization strategies.
Fair
7-8 December 2021
London - UK
Booth:#14 + Online
Microbiome Connect: Europe
Highlighting the Latest Clinical Research and Innovation in the Gut, Oral and Skin Microbiome
Fair
28-30 April 2022
Austria Center Vienna (ACV) - Vienna, Austria
Booth #16
World Of Microbiome
This year, the WOM program is based on three learning and networking zones to advance research, understanding & application in the world of microbiome by fostering collaboration among clinicians, researchers, and the industry. These zones are the mother and newborn microbiome, the digestive tract and metabolism microbiome, and the oral cavity microbiome.
Fair
June 11–14, 2022
Hybrid Conference, Vienna, Austria
European Human Genetics Conference – ESHG
The ESHG conference provides a platform for disseminating the most exciting advancements in the field of human genetics and fostering the education of the upcoming generation of human geneticists. Scientific sessions, concurrent symposia, and workshops: by attending, you'll be updated on emerging concepts, mechanisms, and technologies in human genetics. Of course, our human and microbiome genetics collection devices cannot be missed.
Fair
July 6-7, 2022
Amsterdam, NL
Microbiome Connect
Skin microbiome is entering the mainstream of the healthcare, beauty, and personal care industry. The field is still in a nascent stage, but as next generation sequencing techniques and big data analysis improve, a galaxy of new information is set to be uncovered. With new regulation coming in to hold back the use of unsubstantiated claims, understanding the research and governing of this space has never been more important. Join us at this amazing event!
Fair
12th-13th Sep 2023
Seoul, South Korea Swiss Grand Hotel
7th Microbiome R&D and Business Collaboration Congress
Two days of exciting talks to learn about the latest microbiome discoveries and novel research trends, as well as explore effective strategies and partnerships that translate findings into viable products. Discover our microbiome sample collection products at our stand, and don't miss the chance to listen to our talks Tuesday, September 12, held by Copan Scientific Affairs Director Cristiano Sabelli, "Standardizing Sample Collection and Transportation for Microbiome Analysis" and ASPAC Sales & Marketing Manager "Cyclone: easy, traceable, and reliable automation of sample preparation."
Fair
November 7, 2023
Zebrastraat Venue, Ghent, Belgium
MICROBIOME: from benchtop to bedside
The Clinical Biology Department of the UZ Brussel organises the symposium 'Microbiome: from benchtop to bedside' to learn about the latest microbiome discoveries and novel research trends, as well as to foster collaboration among clinicians, researchers, and the industry. Discover our microbiome sample collection products at our booth and don't miss our talk!
Microbiology time
December 7, 2021
Microbiology Time – December 2021
It's December Microbiology Time… Take a look at our database! As always, we cherry-picked the top three papers of the month: two studies analyzing microbiome for forensic purposes and in cancer patients, and one on antimicrobial resistances in a Vietnamese Intensive Care Unit.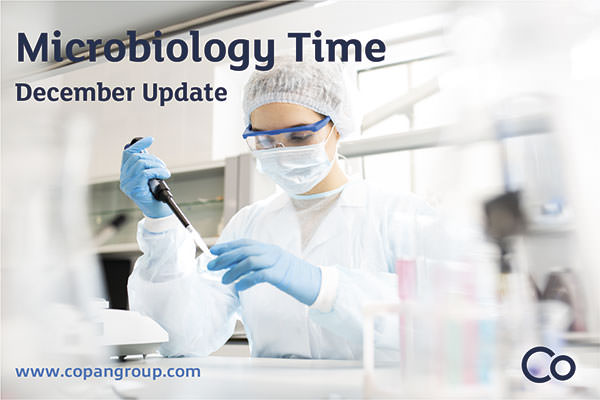 Microbiology Time
November 7, 2022
Microbiology Time – November 2022
Punctual as every month, it's November Microbiology Time. Let's dig together into three exciting studies on the costs and benefits of 4N6FLOQSwabs®, the microbiota of the healthy eye, and the evaluation of self-collection for anal cancer screening.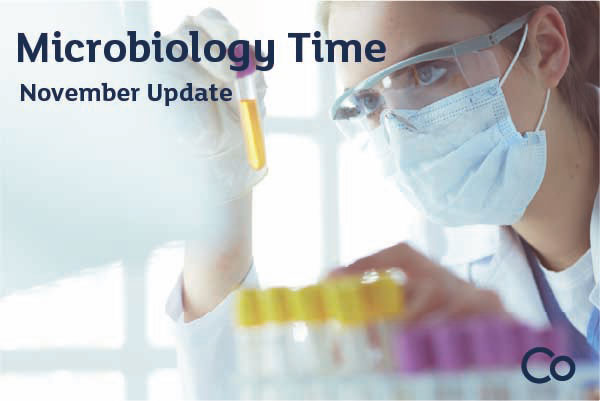 News
April 15, 2023
The new SMART-eNAT®
SMART-eNAT® combines eNAT® with a unique SMART cap delivery system, providing a safe and efficient nucleic acid collection and transport for prolonged periods. The new SMART post-collection high-performance yet intuitive cap avoids any spillage or unwanted contact, facilitating self-sampling at home.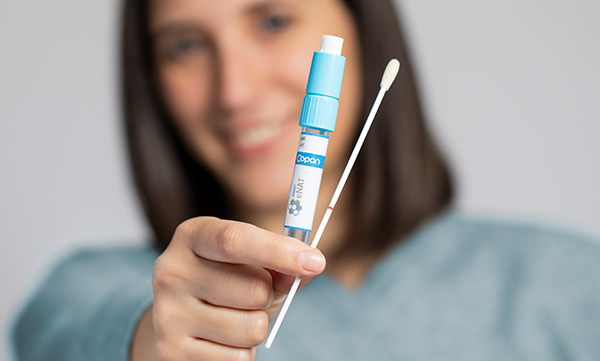 Microbiology Time
June 6, 2023
Microbiology Time – June 2023
This month we bring you two studies on the pediatric use of FecalSwab, and an outstanding paper illustrating the innovations introduced in forensic science by the French gendarmerie. Enjoy!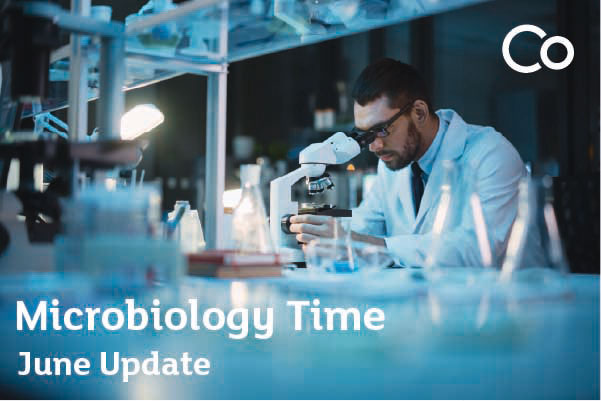 Microbiology Time
July 11, 2023
Microbiology Time – July 2023
For this July Microbiology Time, we selected three papers from Italian research teams. The first two explored the link between microbiome and cancer, while the third assessed bacterial water contamination in a dental clinic setting. Discover the full studies!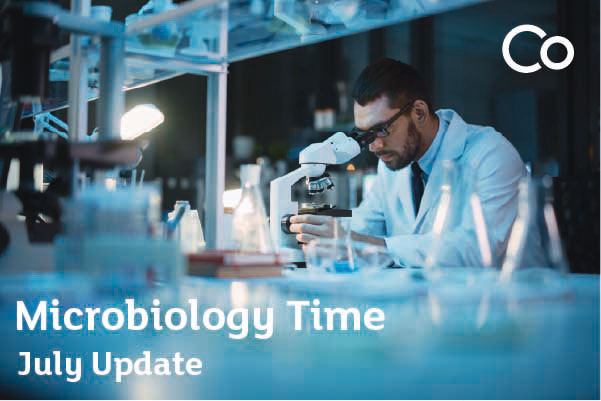 Microbiology Time
August 9, 2023
Microbiology Time – August 2023
This month we start with a vaccination and screening program for influenza and COVID-19, followed by an exciting article on the benefits of Lab Automation. Finally, we end with a somewhat unusual paper: a study evaluating sampling methods to analyze the microbiome of cultural heritage objects. Enjoy the readings!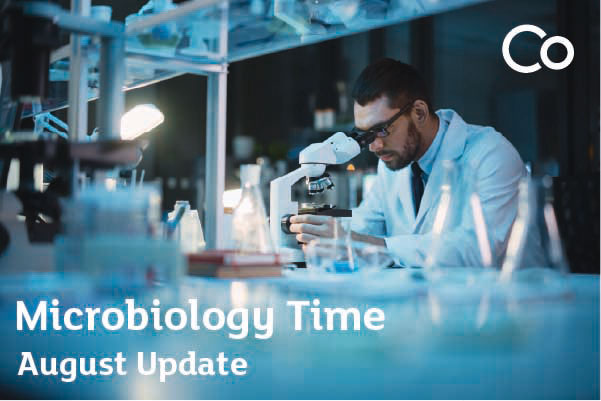 Symposium
ECCMID 2023
April 16th, 2023
12:15 CET Time
Prof. Marek Smieja
Prof. Donatella Placidi
Prof. Gerard Cangelosi
Sample collection: needs, challenges, and future
Copan sponsored Integrated Lunch Symposia – ECCMID 2023
Sample collection and preservation, without any doubt, are the most critical prerequisites for trustable test results and accurate clinical diagnosis. This symposium explores the need for correct and innovative sample collection and preservation methods to increase diagnostics laboratories' accuracy, standardization, and improve patient treatment and diagnostics democratization.