Scientific study
Journal of Microbiological Methods
2015
Liquid based microbiological transport systems: conformity assessment of two commercial devices
Manuela Avolio, Alessandro Camporese​
Scientific study
BMC Infectious Diseases
2018
Molecular epidemiology and virulence characteristics of Staphylococcus aureus nasal colonization in medical laboratory staff: comparison between microbiological and non-microbiological laboratories
Xiaoying Xie, Xinlu Dai, Lijia Ni, Baiji Chen, Zhaofan Luo, Yandan Yao, Xiquan Wu, Hongyu Li, Songyin Huang
Scientific study
Frontiers in cellular and infection Microbiology
2018
Exploring the Microbiota of Diabetic Foot Infections With Culturomics
Joanne Jneid, Nadim Cassir, Sophie Schuldiner, Nathalie Jourdan, Albert Sotto, Jean-Philippe Lavigne, Bernard La Scola
Scientific study
PLoS One
2019
Comparison of BD MAX GBS and GenomEra GBS assays for rapid intrapartum PCR detection of vaginal carriage of group B streptococci
Trine Andreasen, Jens Kjølseth Møller, Mohammed Rohi Khalil
Scientific study
Diagnostic Microbiology and Infectious Disease
2020
Recovery of aerobic gram-negative bacteria from the Copan Eswab transport system after long-term storage.
Sofie C.M. Tops, Marlien Kolmus, Damy Wulms, Jakko van Ingen, Heiman F.L. Wertheim, Eva Kolwijck
Scientific study
Journal of Global Antimicrobial Resistance
2020
Rectal screening for carbapenemase-producing Enterobacteriaceae: a proposed workflow
Claudio Foschia, Paolo Gaibani, Donatella Lombardo, Maria Carla Re, Simone Ambretti
Scientific study
Diagnostic Microbiology and Infectious Disease
2020
Impact of freeze/thaw cycles and single freezing at −80 °C on the viability of aerobic bacteria from rectal swabs performed with the ESwabTM system
Rindala Salibaa, Jean Ralph Zahara, Fatma El Allaoui, Etienne Carbonnelle, Mathilde Lescat
学術研究
Antimicrobial Resistance & Infection Control
2021
Cutibacterium avidum resists surgical skin antisepsis in the groin—a potential risk factor for periprosthetic joint infection: a quality control study
Steven M. Maurer, Laura Kursawe, Stefan Rahm, Julia Prinz, Annelies S. Zinkernagel, Annette Moter, Stefan P. Kuster, Reinhard Zbinden, Patrick O. Zingg, Yvonne Achermann
Scientific study
Microbiology and infectious disease
2019
Evaluating the preservation and isolation of stool pathogens using the COPAN FecalSwab™ Transport System and Walk-Away Specimen Processor
Lee W Goneau
Scientific study
Journal of Clinical Medicine
2021
Effectiveness of 0.66% Povidone-Iodine Eye Drops on Ocular Surface Flora before Cataract Surgery: A Nationwide Microbiological Study
Rosario Musumeci
Scientific study
Journal of the American Chemical Society
2021
Cov-MS: A Community-Based Template Assay for Mass-Spectrometry-Based Protein Detection in SARS-CoV‑2 Patients
Bart Van Puyvelde et al.
Scientific study
Frontiers in Microbiology
2021
Evidence of Common Isolates of Streptococcus agalactiae in Bovines and Humans in Emilia Romagna Region (Northern Italy)
Elena Carra et al.
Scientific study
Antimicrobial Resistance and Infection Control
2021
The impact of a 'milking the COW' campaign in a regional hospital in Singapore
Surinder Kaur M.S. Pada et al.
Scientific study
Antibiotics
2021
ESBL-Producing, Carbapenem- and Ciprofloxacin-Resistant Escherichia coli in Belgian and Dutch Broiler and Pig Farms: A Cross-Sectional and Cross-Border Study
Sien De Koster et al.
Scientific study
Antimicrobial Resistance & Infection Control
2021
Epidemiology of ESBL-producing Escherichia coli from repeated prevalence studies over 11 years in a long-term-care facility
Martischang et al.
Scientific study
European Journal of Clinical Microbiology & Infectious Diseases
2022
Diagnostic test accuracy of an automated device for the MALDI target preparation for microbial identification
Abdessalam Cherkaoui et al.
Microbiology time
August 6, 2021
Microbiology Time – August 2021
It's August Microbiology Time! We just updated our website's scientific database and chose the best three papers of the month: a study on extrapulmonary samples processing with MycoTB™, an alternative to PCR for Sars-CoV-2 diagnosis, and the first feedback from the LolliSponge™ use to collect saliva for COVID-9 screening.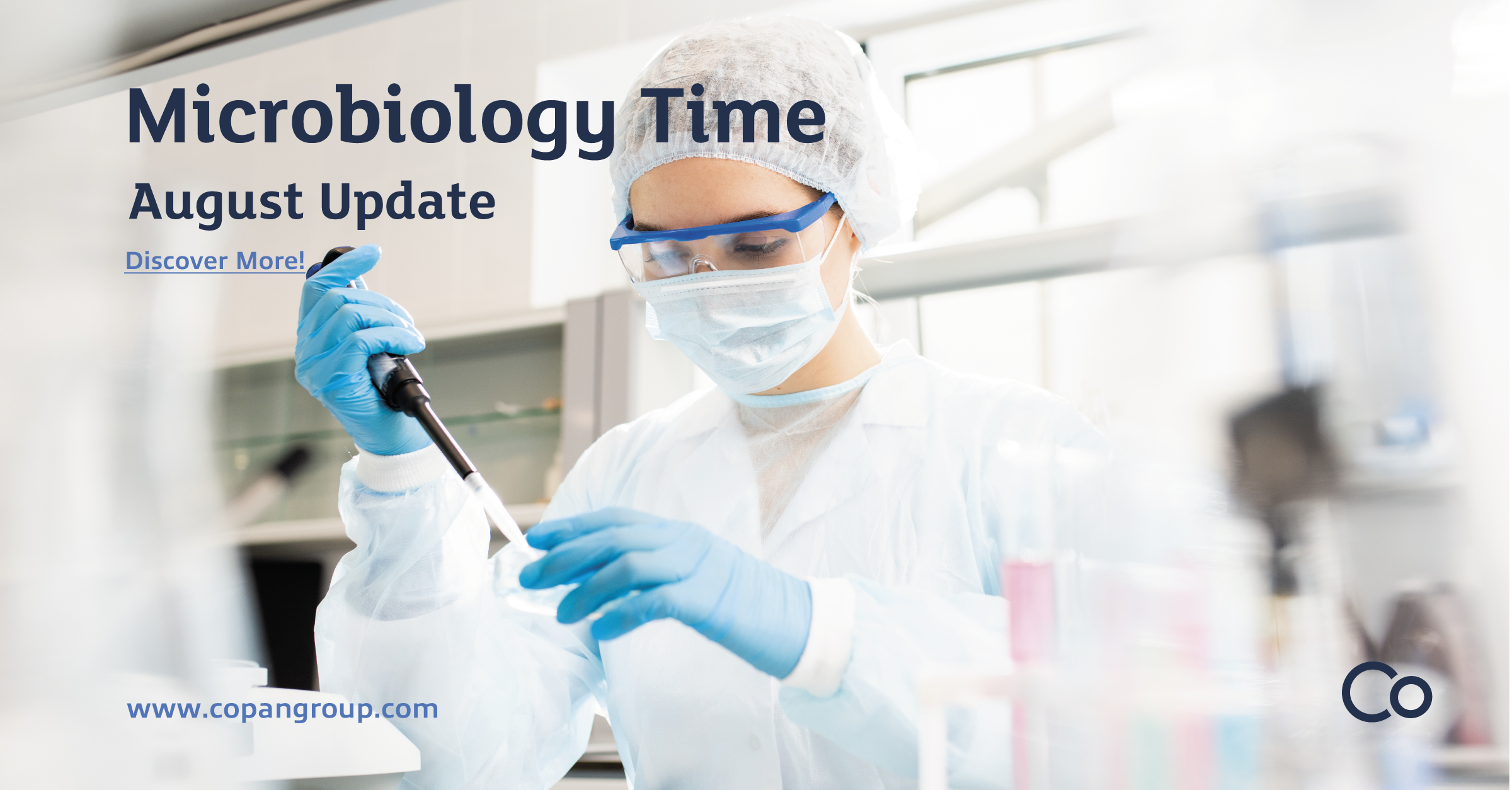 Microbiology Time
January 9, 2023
Microbiology Time – January 2023
With the studies selected in the first edition of 2023's Microbiology time, we explore three peculiar sides of our WISE approach: surface hygiene monitoring, HPV self-collection, and automated MALDI-TOF target preparation. Enjoy!