Product
eSwab®
eSwab® collection and transport system is our multipurpose media intended for the collection and transport of clinical specimens containing aerobes, anaerobes, fastidious bacteria, viruses and Chlamydia.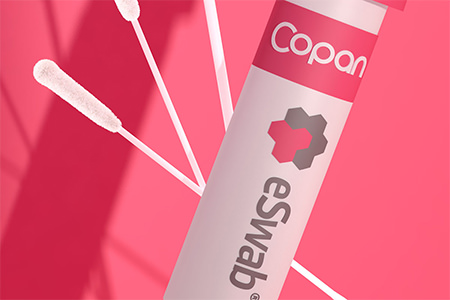 Product
eNAT®
eNAT® is intended to collect, transport, and preserve microbial and human nucleic acids to be analyzed by amplification techniques. With its rapid analysis and inactivation features, eNAT® is the ready-to-use device to quickly homogenize your sample, for a high-quality, unbiased nucleic acid yield, and fast turnaround time.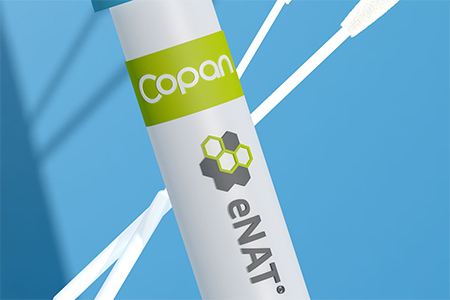 Product
CLASSIQSwabs™
CLASSIQSwabs™ are traditional and sterile ready-for-use devices intended for the collection of clinical samples.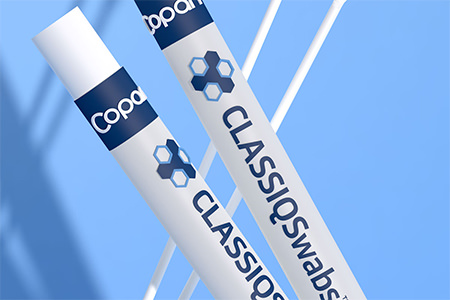 Product
Self Vaginal FLOQSwabs®
Safe, comfortable, and easy to use, Self Vaginal FLOQSwabs® is the comfortable device supporting women taking part in HPV and STI screening campaigns.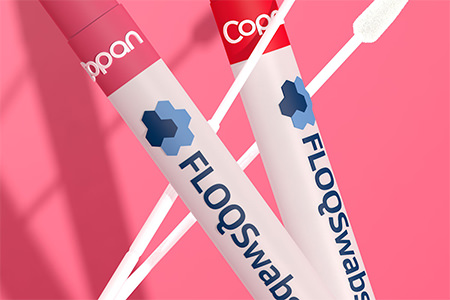 Product
Self – Urisponge™
Copan Self UriSponge™ is a safe and easy-to-use device to collect urine samples. Collection can be performed at home in complete privacy, using a non-invasive procedure.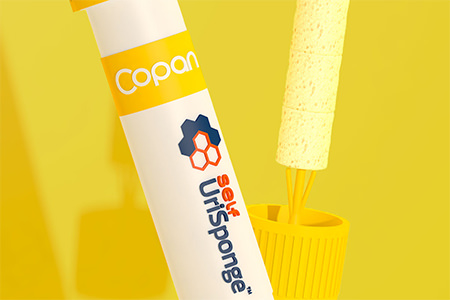 Scientific study
Journal of Clinical Virology
2020
Analytical performance of HPV assays on vaginal self-collected vs practitioner-collected cervical samples: the SCoPE study
M Saville, D Hawkes, MHT Keung, ELO Ip, J Silvers, F Sultana, MJ Malloy, LS Velentzis, K Canfel, CD Wrede, JML Brotherton
Scientific study
BMC Infectious Diseases
2019
Persistence of cervical high-risk human papillomavirus in women living with HIV in Denmark – the SHADE
Kristina Thorsteinsson
Scientific study
Asian Pacific Journal of Cancer Prevention
2018
Prevalence of Human Papillomavirus Genotypes in Women from Cozumel, Mexico
Enrique Navarro-Vidal
Scientific study
Infectious Diseases in Obstetrics and Gynecology
2018
Prevalence of Sexually Transmitted Infections among Married Women in Rural Nepal
Sunila Shakya
Scientific study
Tropical Medicine and International Health
2016
Genotypic characterisation of human papillomavirus infections among persons living with HIV infection; a case–control study in Kumasi, Ghana
Dekugmen Yar
Scientific study
Journal of Clinical Virology
2016
Comparison of DRY and WET vaginal swabs with cervical specimens in Roche Cobas 4800 HPV and Abbott RealTime High Risk HPV tests
Kwan Jun
Scientific study
Plos One
2019
An observational study comparing HPV prevalence and type distribution between HPV-vaccinated and -unvaccinated girls after introduction of school-based HPV vaccination in Norway
Espen Enerly
Scientific study
BMJ Open
2019
Evaluating sexual health in sex workers and men who have sex with men: the SMESH cross-sectional protocol study
Eliana Marcia Wendland
Scientific study
BMJ Open
2020
STOP HPV study protocol: a nationwide case–control study of the association between oropharyngeal cancer and human papillomavirus (HPV) infection in Brazil
Eliana Marcia Wendland
Scientific study
Pathology
2021
A comparison of ThinPrep against four non-volatile transport media for HPV testing at or near the point of care
S.G.Badman
Scientific study
Clinical Infectious diseases
2021
Population Impact of Girls-Only Human Papillomavirus 16/18 Vaccination in The Netherlands: Cross-Protective and Second-Order Herd Effects
Joske Hoes
Scientific study
Current Oncology
2019
Assessing the Impact of Mailing Self-Sampling Kits for Human Papillomavirus Testing to Unscreened Non-Responder Women in Manitoba
F. Jalili
Scientific study
Current Oncology
2018
Self-Collection for Under-Screened Women in a National Cervical Screening Program: Pilot Study
M. Saville
Fair
15 - 19 November 2021
Online
International Papillomavirus Conference – IPVC
The theme of the 34th International Papillomavirus Conference is "Research and education for HPV elimination". Through workshops, invited lectures, and oral and poster sessions presenting the latest research results, the conference will cover papillomavirus-related topics from basic science to clinical research and global health impact. Special attention will be paid to HPV prevention and control in populations that are most vulnerable to HPV, including those in Low- and Middle-Income Countries.
Microbiology time
October 5 2021
Microbiology Time – October 2021
October's update of our scientific database is full of exciting papers. Among them, we selected a study on HPV-related cancer screening, a research on direct amplification of disaster victim identification samples, and a comparison of sample collection and transport methods to enhance yield and biosafety of COVID-19 testing.