Product
UTM®
Copan Universal Transport Medium® (UTM®) system is intended for the collection, transport, and preservation of clinical specimens containing Viruses, Chlamydia, Mycoplasma, and Ureaplasma.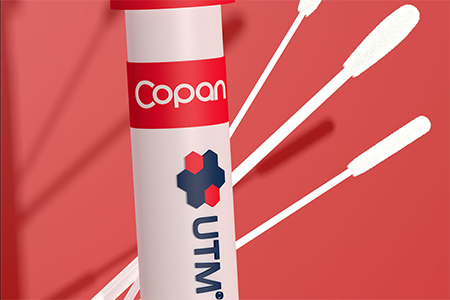 Application
STIs and Cervical Cancer
Although most STIs have no or only mild symptoms, the 1 million STIs acquired every day profoundly impact global health worldwide.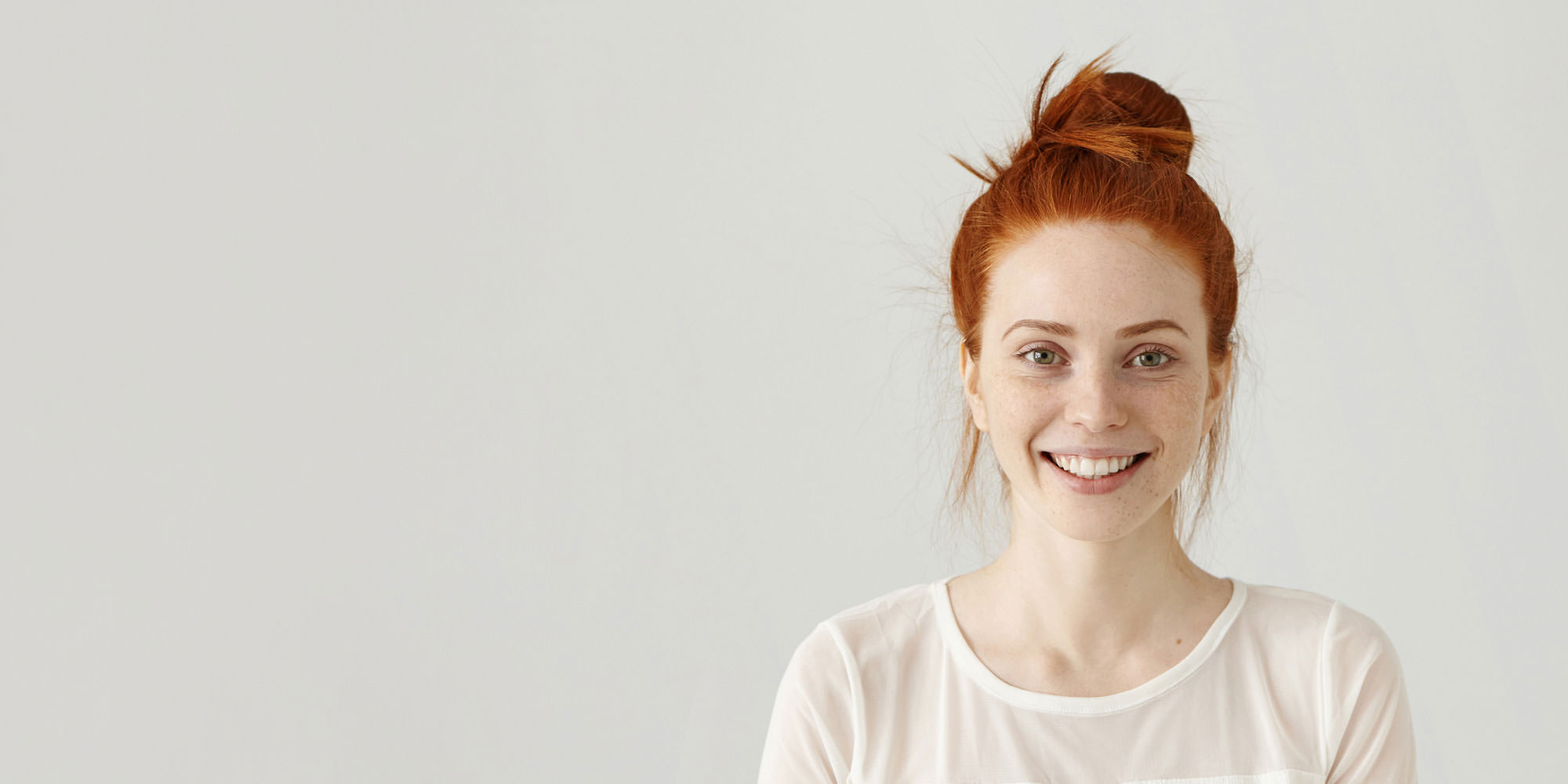 Brochure
STIs and HPV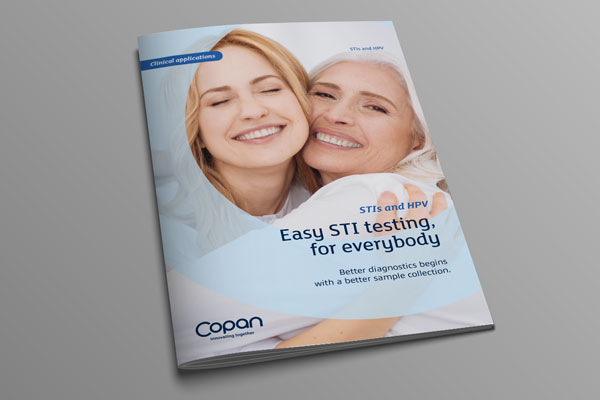 Scientific study
Journal of Clinical Microbiology
2015
Successful Combination of Nucleic Acid Amplification Test Diagnostics and Targeted Deferred Neisseria gonorrhoeae Culture
Carolien M. Wind, Henry J. C. de Vries, Maarten F. Schim van der Loeff, Magnus Unemo, Alje P. van Dam​
Scientific study
International Journal of Women's Health
2018
A comparison of cotton and flocked swabs for vaginal self-sample collection
Manuela Viviano
Scientific study
African journal of clinical and experimental microbiology
2018
Polymerase chain reaction versus enzyme-linked immunosorbent assay in detection of Chlamydia Trachomatis infection among gynaecological patients in south-western Nigeria
Ajani T.A
Scientific study
Journal of Clinical Microbiology
2019
Bacterial Load of Chlamydia trachomatis in the Posterior Oropharynx, Tonsillar Fossae, and Saliva among Men Who Have Sex with Men with Untreated Oropharyngeal Chlamydia
Tiffany R. Phillips
Scientific study
Pathology
2021
A comparison of ThinPrep against four non-volatile transport media for HPV testing at or near the point of care
S.G.Badman
Scientific study
Iranian Journal of Microbiology
2020
Comparison of deferred and bedside culture of Neisseria gonorrhoeae: a study to improve the isolation of gonococci for antimicrobial susceptibility testing
Iryna Boiko
Scientific study
Clinical Infectious diseases
2021
Population Impact of Girls-Only Human Papillomavirus 16/18 Vaccination in The Netherlands: Cross-Protective and Second-Order Herd Effects
Joske Hoes
Scientific study
BMC Infectious Diseases
2020
Treating male partners of women with bacterial vaginosis (StepUp): a protocol for a randomised controlled trial to assess the clinical effectiveness of male partner treatment for reducing the risk of BV recurrence
Lenka A. Vodstrcil
Scientific study
Current Oncology
2019
Assessing the Impact of Mailing Self-Sampling Kits for Human Papillomavirus Testing to Unscreened Non-Responder Women in Manitoba
F. Jalili
Scientific study
Current Oncology
2018
Self-Collection for Under-Screened Women in a National Cervical Screening Program: Pilot Study
M. Saville
Scientific study
PLoS One
2018
Contraceptive rings promote vaginal lactobacilli in a high bacterial vaginosis prevalence population: A randomised, open-label longitudinal study in Rwandan women
Tania Crucitti
Scientific study
Antimicrobial Resistance & Infection Control
2021
Vaginal colonization with antimicrobial-resistant bacteria among women in labor in central Uganda: prevalence and associated factors
Josephine Tumuhamye
Scientific study
Plos One
2015
Randomized Comparison of Two Vaginal Self-Sampling Methods for Human Papillomavirus Detection: Dry Swab versus FTA Cartridge
Rosa Catarino
Scientific study
BMJ Open
2019
Evaluating sexual health in sex workers and men who have sex with men: the SMESH cross-sectional protocol study
Eliana Marcia Wendland
Scientific study
BMC Public Health
2016
The acceptability and cost of a home-based chlamydia retesting strategy: findings from the REACT randomised controlled trial
Smith K. S.
Scientific study
Sex Health
2017
UriSwab: an effective transport medium for nucleic acid detection of Chlamydia trachomatis, Mycoplasma genitalium and Neisseria gonorrhoeae
Anna-maria G Costa
Scientific study
BMC Pregnancy Childbirth
2018
Development of a melting-curve based multiplex real-time PCR assay for simultaneous detection of Streptococcus agalactiae and genes encoding resistance to macrolides and lincosamides
Eliane Saori Otaguiri
Scientific study
PLoS One
2021
Human papillomavirus 16 L1 gene methylation as a potential biomarker for predicting anal intraepithelial neoplasia in men who have sex with men (MSM)
Chaiwongkot et al.
Scientific study
The Journal of Antimicrobial Chemotherapy
2021
Antimicrobial susceptibility of Neisseria gonorrhoeae isolates and syndromic treatment of men with urethral discharge in Kingston, Jamaica, 2018-19
McDermott et al.
Scientific study
Frontiers in cellular and infection Microbiology
2021
Copan Walk Away Specimen Processor (WASP) Automated System for Pathogen Detection in Female Reproductive Tract Specimens
Jing Gao et al.
Scientific study
Interntional Journal of Microbiology
2022
High-Resolution Melting Analysis to Detect Antimicrobial Resistance Determinants in South African Neisseria gonorrhoeae Clinical Isolates and Specimens
Nireshni Mitchev et al.
Scientific study
Healthcare
2022
Comparison of Different Self‐Sampling Devices for Molecular Detection of Human Papillomavirus (HPV) and Other Sexually Transmitted Infections (STIs): A Pilot Study
Ilaria Sechi et al.
Scientific study
Open Research Europe
2022
Human papillomavirus (HPV) detection in vaginal self-samples: evaluation of eNat® as an alternative suspension medium to ThinPrep®PreservCyt® for vaginal swabs
Chiara Giubbi et al.
Scientific study
Journal of Translation Medicine
2022
Clinical validation of full HR HPV genotyping HPV Selfy assay according to the international guidelines for HPV test requirements for cervical cancer screening on clinician collected and self collected samples
Alice Avian et al.
Scientific study
BMJ Open
2020
STOP HPV study protocol: a nationwide case–control study of the association between oropharyngeal cancer and human papillomavirus (HPV) infection in Brazil
Eliana Marcia Wendland
Scientific study
Microorganisms
2019
Sexually Transmitted Infections and Behavioral Determinants of Sexual and Reproductive Health in the Allahabad District (India) Based on Data from the ChlamIndia Study
Pierre P.M. Thomas
Scientific study
Journal of Clinical Microbiology
2018
Mismatch Amplification Mutation Assay-Based Real-Time PCR for Rapid Detection of Neisseria gonorrhoeae and Antimicrobial Resistance Determinants in Clinical Specimens
Valentina Donà, Joost H. Smid, Sara Kasraian, Dianne Egli-Gany, Ferah Dost, Fatime Imeri, Magnus Unemo, Nicola Low, Andrea Endimiani
Scientific study
PLoS One
2019
Diversity of endocervical microbiota associated with genital Chlamydia trachomatis infection and infertility among women visiting obstetrics and gynecology clinics in Malaysia
Heng Choon Cheong, Polly Soo Xi Yap, Chun Wie Chong, Yi Ying Cheok, Chalystha Yie Qin Lee, Grace Min Yi Tan, Sofiah Sulaiman, Jamiyah Hassan, Negar Shafiei Sabet, Chung Yeng Looi , Rishein Gupta, Bernard Arulanandam, Sazaly AbuBakar, Cindy Shuan Ju Teh, Li Yen Chang, Won Fen Wong
Scientific study
PLoS One
2018
Prevalence of oropharyngeal group B Streptococcus colonization in mothers, family, and health care providers
Kristina Roloff, Gohar Stepanyan, Guillermo Valenzuela
Scientific study
BMJ Open
2018
Diagnostic accuracy of the Xpert CT/NG and OSOM Trichomonas Rapid assays for point-of-care STI testing among young women in South Africa: a crosssectional study
Nigel Garrett, Nireshni Mitchev, Farzana Osman, Jessica Naidoo, Jienchi Dorward, Ravesh Singh, Hope Ngobese, Anne Rompalo, Koleka Mlisana, Adrian Mindel
Scientific study
Journal of Clinical Microbiology
2019
Comparison of Three Nucleic Acid Amplification Tests and Culture for Detection of Group B Streptococcus from Enrichment Broth
Ji H. Shin, David T. Pride
Scientific study
Journal of Clinical Microbiology
2019
Multicenter Evaluation of NeuMoDx Group B Streptococcus Assay on the NeuMoDx 288 Molecular System
C. L. Emery, R. F. Relich, T. H. Davis, S. A. Young, M. D. Sims, B. L. Boyanton Jr.
Scientific study
PLoS One
2019
Comparison of BD MAX GBS and GenomEra GBS assays for rapid intrapartum PCR detection of vaginal carriage of group B streptococci
Trine Andreasen, Jens Kjølseth Møller, Mohammed Rohi Khalil
Scientific study
Heliyon
2019
Comparison of collection methods for molecular detection of α-herpes viruses and Treponema pallidum, including evaluation of critical transportation conditions
Pieter W. Smit, Titia Heijman, Meriem el Abdallaoui, Sylvia M. Bruisten
Scientific study
Journal of Clinical Virology
2020
Analytical performance of HPV assays on vaginal self-collected vs practitioner-collected cervical samples: the SCoPE study
M Saville, D Hawkes, MHT Keung, ELO Ip, J Silvers, F Sultana, MJ Malloy, LS Velentzis, K Canfel, CD Wrede, JML Brotherton
Scientific study
PLoS One
2018
Urogenital Chlamydia trachomatis multilocus sequence types and genovar distribution in chlamydia infected patients in a multi-ethnic region of Saratov, Russia
Valentina A. Feodorova, Svetlana S. Konnova, Yury V. Saltykov, Sergey S. Zaitsev, Irina A. Subbotina, Tatiana I. Polyanina, Sergey S. Ulyanov, Susanna L. Lamers, Charlotte A. Gaydos, Thomas C. Quinn, Vladimir L. Motin
Scientific study
PLoS One
2018
Streptococcus agalactiae carriage among pregnant women living in Rio de Janeiro, Brazil, over a period of eight years
Ana Caroline N. Botelho,Juliana G. Oliveira,Andreia P. Damasco,Késia T. B. Santos,Ana Flávia M. Ferreira,Gabriel T. Rocha,Penélope S. Marinho,Rita B. G. Bornia,Tatiana C. A. Pinto,Marco A. Américo,Sergio E. L. Fracalanzza,Lúcia M. Teixeira
Scientific study
BMC Women's Health
2019
Cervical microbiota in women with cervical intra-epithelial neoplasia, prior to and after local excisional treatment, a Norwegian cohort study
Johanna Wiik, Verena Sengpiel, Maria Kyrgiou, Staffan Nilsson, Anita Mitra, Tom Tanbo, Christine Monceyron Jonassen, Tone Møller Tannæs, Katrine Sjøborg
Scientific study
Microorganisms
2019
Transcriptional Expression of the ompA, cpaf, tarp, and tox Genes of Chlamydia trachomatis Clinical Isolates at Different Stages of the Developmental Cycle
Suvi Korhonen, Kati Hokynar, Laura Mannonen, Jorma Paavonen, Eija Hiltunen-Back, Mirja Puolakkainen
Scientific study
Plos One
2019
An observational study comparing HPV prevalence and type distribution between HPV-vaccinated and -unvaccinated girls after introduction of school-based HPV vaccination in Norway
Espen Enerly
Scientific study
BMC Pregnancy and Childbirth
2020
Mycoplasma and Ureaplasma carriage in pregnant women: the prevalence of transmission from mother to newborn
Avi Peretz, Oran Tameri, Maya Azrad, Shay Barak, Yuri Perlitz, Wadie Abu Dahoud, Moshe Ben-Ami & Amir Kushnir
Scientific study
BMC Infectious Diseases
2019
Persistence of cervical high-risk human papillomavirus in women living with HIV in Denmark – the SHADE
Kristina Thorsteinsson
Scientific study
Asian Pacific Journal of Cancer Prevention
2018
Prevalence of Human Papillomavirus Genotypes in Women from Cozumel, Mexico
Enrique Navarro-Vidal
Scientific study
Infectious Diseases in Obstetrics and Gynecology
2018
Prevalence of Sexually Transmitted Infections among Married Women in Rural Nepal
Sunila Shakya
Scientific study
PloS One
2015
Evaluation of the Versant CT/GC DNA 1.0 Assay (kPCR) for the Detection of Extra-Genital Chlamydia trachomatis and Neisseria gonorrhoeae Infections
Antonella Marangoni
Scientific study
Tropical Medicine and International Health
2016
Genotypic characterisation of human papillomavirus infections among persons living with HIV infection; a case–control study in Kumasi, Ghana
Dekugmen Yar
Scientific study
Journal of Clinical Virology
2016
Comparison of DRY and WET vaginal swabs with cervical specimens in Roche Cobas 4800 HPV and Abbott RealTime High Risk HPV tests
Kwan Jun
Scientific study
Int J Reprod BioMed
2017
The prevalence of, and risk factors for, mycoplasma genitalium infection among infertile women in Ibadan: A cross-sectional study
Tinuade Adesola Ajant
Scientific study
EBioMedicine
2018
A 30-Min Nucleic Acid Amplification Point-of-Care Test for Genital Chlamydia trachomatis Infection in Women: A Prospective, Multi-center Study of Diagnostic Accuracy
Harding-Esch E.M
Scientific study
Pathogens
2020
The Prevalence of Chlamydia trachomatis and Three Other Non-Viral Sexually Transmitted Infections among Pregnant Women in Pemba Island Tanzania
Naomi C.A.
Scientific study
Pathogens
2022
Frequency of Chlamydia trachomatis and Neisseria gonorrhoeae in Patients with Imminent Preterm Delivery on the Island of Curaçao
Aglaia Hage et al.