Scientific study
Scientific Reports
2020
Assessment of the direct quantitation of SARS-CoV-2 by droplet digital PCR
Michela Deiana, Antonio Mori, Chiara Piubelli, Salvatore Scarso, Mosè Favarato, Elena Pomari
Scientific study
BMC Microbiology
2021
Combined oropharyngeal/nasal swab is equivalent to nasopharyngeal sampling for SARS-CoV-2 diagnostic PCR
Tania Desmet
Scientific study
Journal of Clinical Virology
2019
Laboratory diagnosis of congenital CMV infection in newborns: Impact of pre-analytic factors
Niko Kohmer
Scientific study
The Journal of Molecular Diagnostics
2021
Comparison of Two Commercial Platforms and a Laboratory-Developed Test for Detection of Severe Acute Respiratory Syndrome Coronavirus 2 (SARS-CoV-2) RNA
Mannonen L.
Scientific study
Diagnostic Microbiology and Infectious Disease
2021
Evaluation of the BioFire® COVID-19 test and Respiratory Panel 2.1 for rapid identification of SARS-CoV-2 in nasopharyngeal swab samples
Eric J.Eckbo
Scientific study
IDCases
2021
A case of severe pneumonia with viremia caused by adenovirus B7 identified by off-label use of a multiplex PCR system
Akie Sakakura
Scientific study
Journal of Cystic Fibrosis
2019
Detection of respiratory viruses in cystic fibrosis: comparison of nasal FLOQ Swabs™ and sputum using the FilmArray® platform
S. Cartel
Scientific study
Journal of Clinical Microbiology
2021
Comparable specimen collection from both ends of at-home mid-turbinate swabs
Melissa Truong
Scientific study
European Journal of Clinical Microbiology & Infectious Diseases
2021
Clinical performance of the Abbott Panbio with nasopharyngeal, throat, and saliva swabs among symptomatic individuals with COVID-19
William Stokes
Scientific study
Infection
2021
Self‑sampling versus health care professional‑guided swab collection for SARS‑CoV‑2 testing
Silvia Würstle
Scientific study
Asian Pacific Journal of Cancer Prevention
2018
Prevalence of Human Papillomavirus Genotypes in Women from Cozumel, Mexico
Enrique Navarro-Vidal
Scientific study
JAMA Ophthalmology
2021
SARS-CoV-2 on Ocular Surfaces in a Cohort of Patients With COVID-19 From the Lombardy Region, Italy
Claudio Azzolini
Scientific study
Diagnostic Microbiology and Infectious Disease
2021
Extractionless nucleic acid detection: a high capacity solution to COVID-19 testing
Shairaz Baksh et al.
Scientific study
Virology Journal
2021
Excellent option for mass testing during the SARS‑CoV‑2 pandemic: painless self‑collection and direct RT‑qPCR
Eva Kriegova et al.
Scientific study
Public Health in Practise
2021
Sports balls as potential SARS-CoV-2 transmission vectors
Michel Pelisser et al.
Scientific study
Journal of the American Chemical Society
2021
Cov-MS: A Community-Based Template Assay for Mass-Spectrometry-Based Protein Detection in SARS-CoV‑2 Patients
Bart Van Puyvelde et al.
Scientific study
Diagnostic Microbiology and Infectious Disease
2021
Practical strategies for SARS-CoV-2 RT-PCR testing in resource-constrained settings
Meredith S. Muller et al.
Scientific study
Viruses
2022
Novel Low Pathogenic Avian Influenza H6N1 in Backyard Chicken in Easter Island (Rapa Nui), Chilean Polynesia
Francisca di Pillo et al.
Copan White Paper
Copan White Paper
2022
Monkeypox: sample collection and diagnostic techniques
Stefania Di Costanzo, Ph.D.
Scientific study
Infectious Diseases in Obstetrics and Gynecology
2018
Prevalence of Sexually Transmitted Infections among Married Women in Rural Nepal
Sunila Shakya
Scientific study
BMC Infectious Diseases
2019
Persistence of cervical high-risk human papillomavirus in women living with HIV in Denmark – the SHADE
Kristina Thorsteinsson
Scientific study
Journal of Clinical Microbiology
2020
Evaluation of Transport Media and Specimen Transport Conditions for the Detection of SARS-CoV-2 by Use of Real-Time Reverse Transcription-PCR
Amy A. Rogers, Russell E. Baumann, Gwynngelle A. Borillo, Ron M. Kagan, Hollis J. Batterman, Marzena M. Galdzicka, Elizabeth M. Marlowe
Scientific study
Journal of Clinical Microbiology
2019
Molecular Subtyping of Human Rhinovirus in Children from Three Sub-Saharan African Countries
Vicky L. Baillie, David P. Moore, Azwifarwi Mathunjwa, Palesa Morailane, Eric A. F. Simões, Shabir A. Madhi
Scientific study
PeerJ
2021
Evaluation of two fluorescence immunoassays for the rapid detection of SARS-CoV-2 antigen—new tool to detect infective COVID-19 patients
Lorena Porte​, Paulette Legarraga, Mirentxu Iruretagoyena, Valeska Vollrath, Gabriel Pizarro, Jose Munita, Rafael Araos, Thomas Weitzel​
Scientific study
mSphere
2021
Monitoring COVID-19 Transmission Risks by Quantitative Real-Time PCR Tracing of Droplets in Hospital and Living Environments
Andrea Piana, Maria Eugenia Colucci, Federica Valeriani, Adriano Marcolongo, Giovanni Sotgiu, Cesira Pasquarella, Lory Marika Margarucci, , Andrea Petrucca, Gianluca Gianfranceschi, Sergio Babudieri, Pietro Vitali, Giuseppe D'Ermo, Assunta Bizzarro, Flavio De Maio, Matteo Vitali, Antonio Azara, Ferdinando Romano, Maurizio Simmaco, Vincenzo Romano Spica
Scientific study
Clinical Microbiology and infection
2020
Saliva collected in universal transport media is an effective, simple and high-volume amenable method to detect SARS-CoV-2
Byron M. Berenger, John M. Conly, Kevin Fonseca, Jia Hu, Thomas Louie, Angela R. Schneider, Takshveer Singh, William Stokes, Linda Ward, Nathan Zelyas
Scientific study
The Laryngoscope
2020
Identification of Viruses in Patients With Postviral Olfactory Dysfunction by Multiplex Reverse-Transcription Polymerase Chain Reaction
Jun Tian MD, Jayant M. Pinto MD, Li Li MD, Sanmei Zhang MD, Zhifu Sun MD, Yongxiang Wei MD
Scientific study
Journal of Clinical Microbiology
2020
Clinical Evaluation of the cobas SARS-CoV-2 Test and a Diagnostic Platform Switch during 48 Hours in the Midst of the COVID-19 Pandemic
Mario Poljak, Miša Korva, Nataša Knap Gašper, Kristina Fujs Komloš, Martin Sagadin, Tina Uršič, Tatjana Avšič Županc, Miroslav Petrovec
Scientific study
Journal of Clinical Microbiology
2015
Isothermal Detection of Mycoplasma pneumoniae Directly from Respiratory Clinical Specimens
Brianna L. Petrone, Bernard J. Wolff, Alexandra A. DeLaney, Maureen H. Diaz, and Jonas M. Winchell
Scientific study
Journal of Clinical Microbiology
2019
Clinical Impact of Rapid Point-of-Care PCR Influenza Testing in an Urgent Care Setting: a Single-Center Study
Robert C. Benirschke, Erin McElvania, Richard B. Thomson Jr., Karen L. Kaul, and Sanchita Das
Scientific study
Virology Journal
2020
Efficient SARS-CoV-2 detection in unextracted oro-nasopharyngeal specimens by rRT-PCR with the Seegene Allplex™ 2019-nCoV assay
Wesley Freppel, Natacha Merindol, Fabien Rallu, Marco Bergevin
Scientific study
The Lancet Microbe
2021
Comparison of seven commercial SARS-CoV-2 rapid point-of-care antigen tests: a single-centre laboratory evaluation study
Victor M Corman, Verena Claudia Haage, Tobias Bleicker, Marie Luisa Schmidt, Barbara Mühlemann, Marta Zuchowski, Wendy K Jo, Patricia Tscheak, Elisabeth Möncke-Buchner, Marcel A Müller, Andi Krumbholz, Prof Jan Felix Drexler, Prof Christian Drosten
Scientific study
Influenza and Other Respiratory Viruses
2019
Feasibility study for the use of self‐collected nasal swabs to identify pathogens among participants of a population‐based surveillance system for acute respiratory infections (GrippeWeb‐Plus)—Germany, 2016
Joana M. Haussig, Angelina Targosz, Susanne Engelhart, Michael Herzhoff, Kerstin Prahm, Silke Buda, Andreas Nitsche, Walter Haas, Udo Buchholz
Scientific study
PLoS One
2020
Pneumococcal colonization prevalence and density among Thai children with severe pneumonia and community controls
Barameht Piralam, Christine Prosperi, Somsak Thamthitiwat, Charatdao Bunthi, Pongpun Sawatwong, Ornuma Sangwichian, Melissa M. Higdon, Nora L. Watson, Maria Deloria Knoll, Wantana Paveenkittiporn, Chuwattana Chara, Cameron P. Hurst, Pasakorn Akarasewi, Julia Rhodes, Susan A. Maloney, Katherine L. O'Brien, Henry C. Baggett
Scientific study
BMC Women's Health
2019
Cervical microbiota in women with cervical intra-epithelial neoplasia, prior to and after local excisional treatment, a Norwegian cohort study
Johanna Wiik, Verena Sengpiel, Maria Kyrgiou, Staffan Nilsson, Anita Mitra, Tom Tanbo, Christine Monceyron Jonassen, Tone Møller Tannæs, Katrine Sjøborg
Scientific study
PLoS One
2019
Diversity of endocervical microbiota associated with genital Chlamydia trachomatis infection and infertility among women visiting obstetrics and gynecology clinics in Malaysia
Heng Choon Cheong, Polly Soo Xi Yap, Chun Wie Chong, Yi Ying Cheok, Chalystha Yie Qin Lee, Grace Min Yi Tan, Sofiah Sulaiman, Jamiyah Hassan, Negar Shafiei Sabet, Chung Yeng Looi , Rishein Gupta, Bernard Arulanandam, Sazaly AbuBakar, Cindy Shuan Ju Teh, Li Yen Chang, Won Fen Wong
Scientific study
Microorganisms
2019
Transcriptional Expression of the ompA, cpaf, tarp, and tox Genes of Chlamydia trachomatis Clinical Isolates at Different Stages of the Developmental Cycle
Suvi Korhonen, Kati Hokynar, Laura Mannonen, Jorma Paavonen, Eija Hiltunen-Back, Mirja Puolakkainen
Scientific study
BMC Pregnancy and Childbirth
2020
Mycoplasma and Ureaplasma carriage in pregnant women: the prevalence of transmission from mother to newborn
Avi Peretz, Oran Tameri, Maya Azrad, Shay Barak, Yuri Perlitz, Wadie Abu Dahoud, Moshe Ben-Ami & Amir Kushnir
Scientific study
European Journal of Microbiology and Immunology
2013
Comparison of different media for preservation and transport of viable rickettsiae
 Hagen Frickmann, Gerhard Dobler
Scientific study
Journal of Clinical Virology
2021
Evaluation of an antigen-based test for hospital point-of-care diagnosis of SARS-CoV-2 infection
Gabriele Bianco, Matteo Boattini, Anna Maria Barbui, Gitana Scozzari, Franco Riccardini, Maurizio Coggiola, Enrico Lupia, Rossana Cavallo, Cristina Costa
Copan White Paper
Copan White Paper
2022
Self-collected saliva for SARS-CoV-2 detection: evaluation of Copan Lollisponge™
Cristiano Sabelli, Ph.D., Simone Paghera, MS.
Fair
16-17 and 20-21 September 2021
Online
Congresso Nazionale della Società Italiana di Microbiologia
49th SIM 2021 Congress will aim to take stock of the situation on research, at two different times.
The first will take place over two days dedicated to the presentation of posters and the second on 20 and 21 September for the oral sessions. In particular, the days of 16 and 17 September will be dedicated to e-Posters, with data from SIM research in all its facets, to try to take stock of the post-covid era and how to build it. In the two days of oral sessions, on the other hand, national experts will deal with the hottest topics of the day, from SARS-Cov-2 to vaccines, from diagnostics to pathogenesis and resistance, from fungi to rapid diagnostics.
Fair
14-17 September 2021
Ginevra Congress Center
Booth# 18
ICPIC
The 6th International Conference on Prevention & Infection Control (ICPIC), which will be held on 14-17 September 2021.
After the challenging past year through the COVID-19 pandemic, the need to bring together the global IPC community becomes even stronger. We believe that all required conditions will be met next September to be able to organize a safe, interactive and stimulating face-to-face conference.
Fair
24 - 27 January 2022
Dubai, UAE
Z5.A19
Medlab Middle East
For the expected, unexpected and everything in between
Medlab is the key event to unite Middle East healthcare and medical laboratory community, and is the right place to discover innovative products, trending technology, and build infinite networking opportunities. This year we'll be there in person: discover our FLOQ technology – which revolutionized sample collection – and see first-hand our Liquid-Based Microbiology media, today the gold standard in microbiological sampling. Moreover, it will be a great chance to learn more about UniVerse®, our solution designed to bring efficiency, standardization, and safety in the service of thousands of molecular biology laboratories worldwide.
Fair
14 – 17 March 2022
The International Convention Centre, Birmingham
Stand 919 (Hall 4) & executive suite room 7
IBMS Congress
Delivering science, celebrating achievement
The COVID-19 pandemic has put science and scientists center stage in a way rarely seen. Being IBMS's most important event for developing professional skills and knowledge, 2022's Congress will truly celebrate science in all its variety, influence, potential, and impact on society. We, Copan people, are trembling to contribute to this event: we'll be present there to display our patented technologies, our Liquid-Based Microbiology media, and lab automation. This year will be a great chance to learn more about UniVerse®, our solution designed to bring efficiency, standardization, and safety in the service of thousands of molecular biology laboratories worldwide. But that's not all: in the dedicated executive suite 7 we'll go deeper into sharing knowledge and communicating science: Stay tuned to discover what we arranged!
Fair
April 23-26, 2022
FIL, Lisbon, Portugal
Pavillion 2, booth 1-4; Integrated Lunch Symposia: Hall O
32nd ECCMID – European Congress of Clinical Microbiology & Infectious Diseases
The main event of the year! ECCMID brings together experts from many fields to present their latest findings, guidelines, and experiences to an audience of over 14,000 colleagues. The scientific program includes Keynote Lectures and Oral Sessions, Educational Workshops, Open Forums, Meet-The-Expert Sessions, and a wide range of Scientific Symposia. We are arranging great things for the occasion, including an Integrated Lunch Symposia – Saturday, April 23rd, from 12:15 to 13:15 – talking about self-collection experiences in different fields.
Microbiology time
August 6, 2021
Microbiology Time – August 2021
It's August Microbiology Time! We just updated our website's scientific database and chose the best three papers of the month: a study on extrapulmonary samples processing with MycoTB™, an alternative to PCR for Sars-CoV-2 diagnosis, and the first feedback from the LolliSponge™ use to collect saliva for COVID-9 screening.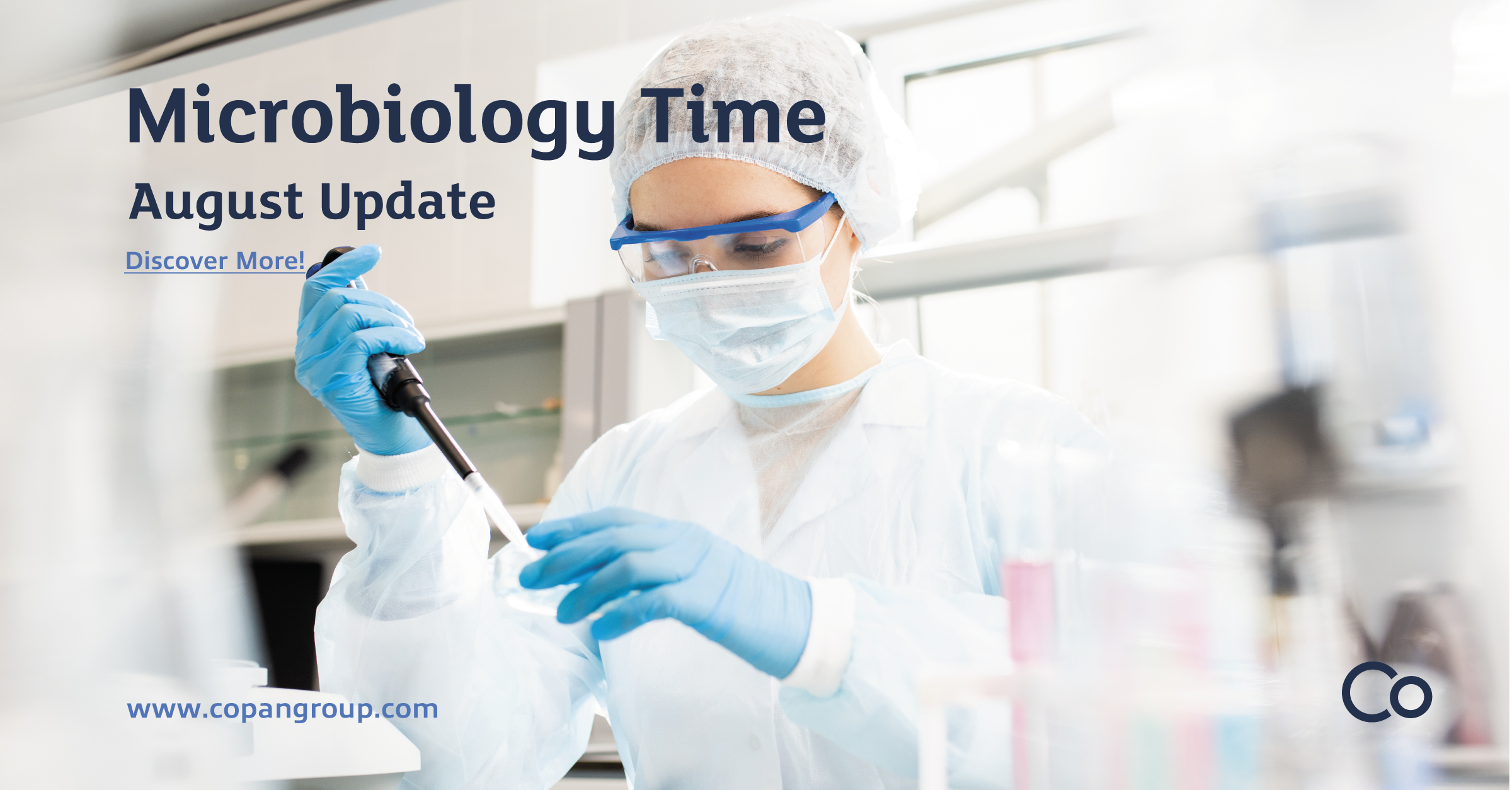 Copan White paper
June 22, 2022
Copan White Paper: Monkeypox, sample collection and diagnostic techniques
With the Copan White Papers, we aim to promote a better understanding of our products and help healthcare professionals to select the proper device according to their needs. Read here the first of the series, "Monkeypox: sample collection and diagnostic techniques."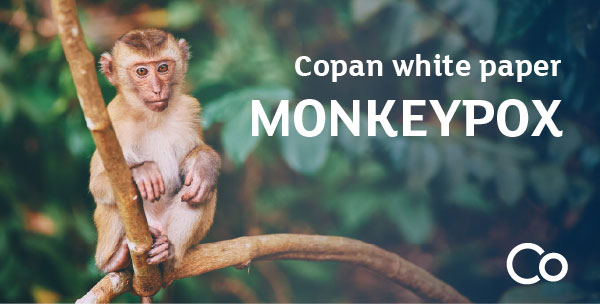 News
September 1, 2022
How to collect and transport Monkeypox samples?
Since May 2022, the number of monkeypox cases are constantly rising. As a result, WHO declared monkeypox a public health emergency and released interim guidelines and information about the virus. Discover here which of Copan's products are suitable for monkeypox sample collection.