Brochure
Cyclone™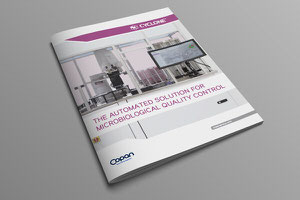 Fair
18- 21 July 2021
Phoenix, Arizona - USA
Booth:# 238+ Online
International Association for Food Protection – IAFP
Each year, the International Association for Food Protection hosts an Annual Meeting, providing attendees with information on current and emerging food safety issues, the latest science, innovative solutions to new and recurring problems, and the opportunity to network with thousands of food safety professionals from around the globe. Held in various locations throughout North America, this meeting has grown over the years to become the leading food safety conference worldwide.
IAFP 2021 will be held both in Phoenix, Arizona at the Phoenix Convention Center and virtually for those unable to travel. The meeting will be held in Mountain Time (U.S).
Fair
16-17 and 20-21 September 2021
Online
Congresso Nazionale della Società Italiana di Microbiologia
49th SIM 2021 Congress will aim to take stock of the situation on research, at two different times.
The first will take place over two days dedicated to the presentation of posters and the second on 20 and 21 September for the oral sessions. In particular, the days of 16 and 17 September will be dedicated to e-Posters, with data from SIM research in all its facets, to try to take stock of the post-covid era and how to build it. In the two days of oral sessions, on the other hand, national experts will deal with the hottest topics of the day, from SARS-Cov-2 to vaccines, from diagnostics to pathogenesis and resistance, from fungi to rapid diagnostics.
Fair
11 -13 November 2021
Suntec Singapore Convention Centre
Online Booth
Asia Pacific Congress of Clinical Microbiology and Infection – APCCMI
APCCMI 2021 will build on this rich history in Singapore and regional collaboration. The congress will focus on:
COVID-19
Advances in infection control, microbiome and vaccines; new antimicrobials and antimicrobial stewardship.
Advances in microbiology including rapid diagnostics, applications in whole-genome sequencing, laboratory automation;
Antimicrobial resistance in humans and within the One Health context of animals, humans and the environment;
Challenges and progress in the three pandemic infections of HIV, Malaria, and Tuberculosis;
Emerging infectious diseases prevalent in the region (Chikungunya, Dengue, Zika) and globally (Avian and seasonal influenza, MERS-CoV)
Fair
1-4 September 2022
Kongres & Kultur center, Aalborg, Denmark
Booth 13
Symposium September 2, 14:30 - 15:00 CET
NSCMID – 38th Nordic Society of Clinical Microbiology and Infectious Diseases Meeting
The annual NSCMID meeting is the main microbiology event in the Scandinavian Countries, so why not attend it side by side with our distributors and partners? Come to meet us all at booth #13 to discover our WISE approach to preanalytics and sample management. Also, we'll wait for you at our sponsored symposium "Automated disk diffusion antibiotic susceptibility testing: the next step in full lab automation" held by Susan Sharp, Friday, September 2, 14:30 – 15:00 CET
Fair
7-10 September 2022
Manchester Central Convention Complex, UK
Booth 18
ESCV – 24th Annual Conference of the European Society for Clinical Virology
This meeting will be the first in-person ESCV meeting since the pandemic began! We are excited to get together and share our pandemic experience with clinical virologists, without forgetting all the many other important aspects of clinical virology that the attention-demanding coronavirus has overshadowed!
Fair
October 12-14, 2022
Grand Hotel Huis ter Duin, Noordwijk aan Zee, Netherlands
Booth 10
EMMD – 12th European Meeting on Molecular Diagnostics
The European Meeting on Molecular Diagnostics will cover all the aspects of molecular diagnostics in human disease and pathology. The scope of the meeting has expanded to include top-notch amplification techniques in a wide diversity of laboratory disciplines, including Clinical Microbiology and Virology. Come to our stand (#10) to discover our approach to molecular biology sample preparation!
Fair
19-21 October 2022
Impact Exhibition Centre – Bangkok, Thailand
Booth 6.D38
Medlab Asia
Medlab Asia will be welcoming world-class suppliers and industry leaders as well as top-of-the-line buyers in the healthcare sector to explore the APAC market. Plus, the educational agenda of the congress aims to equip medical lab and healthcare professionals with technical skill sets, research findings, and recommendations on all lab and healthcare-related topics. Led by a strong scientific committee, the congress ensures that current issues and innovations are at the center of all programs. Come and meet our APAC team at booth 6.D38
News
July 1, 2021
CoHere: Copan at ECCMID 2021
ECCMID 2021 is approaching! ECCMID is the event we have been waiting for all year round, as it's the main occasion to gather with you all clients and collaborators and an excellent chance to share the latest findings and developments in microbiology. Discover what we arranged for the event!
Microbiology time
September 7, 2021
Microbiology Time – September 2021
We just updated our scientific studies database with numerous studies. This month's top picks analyze SRK® sample stability, SARS-CoV-2 self-collection FLOQSwabs®, and antibiotic resistances in Belgian and Dutch farms.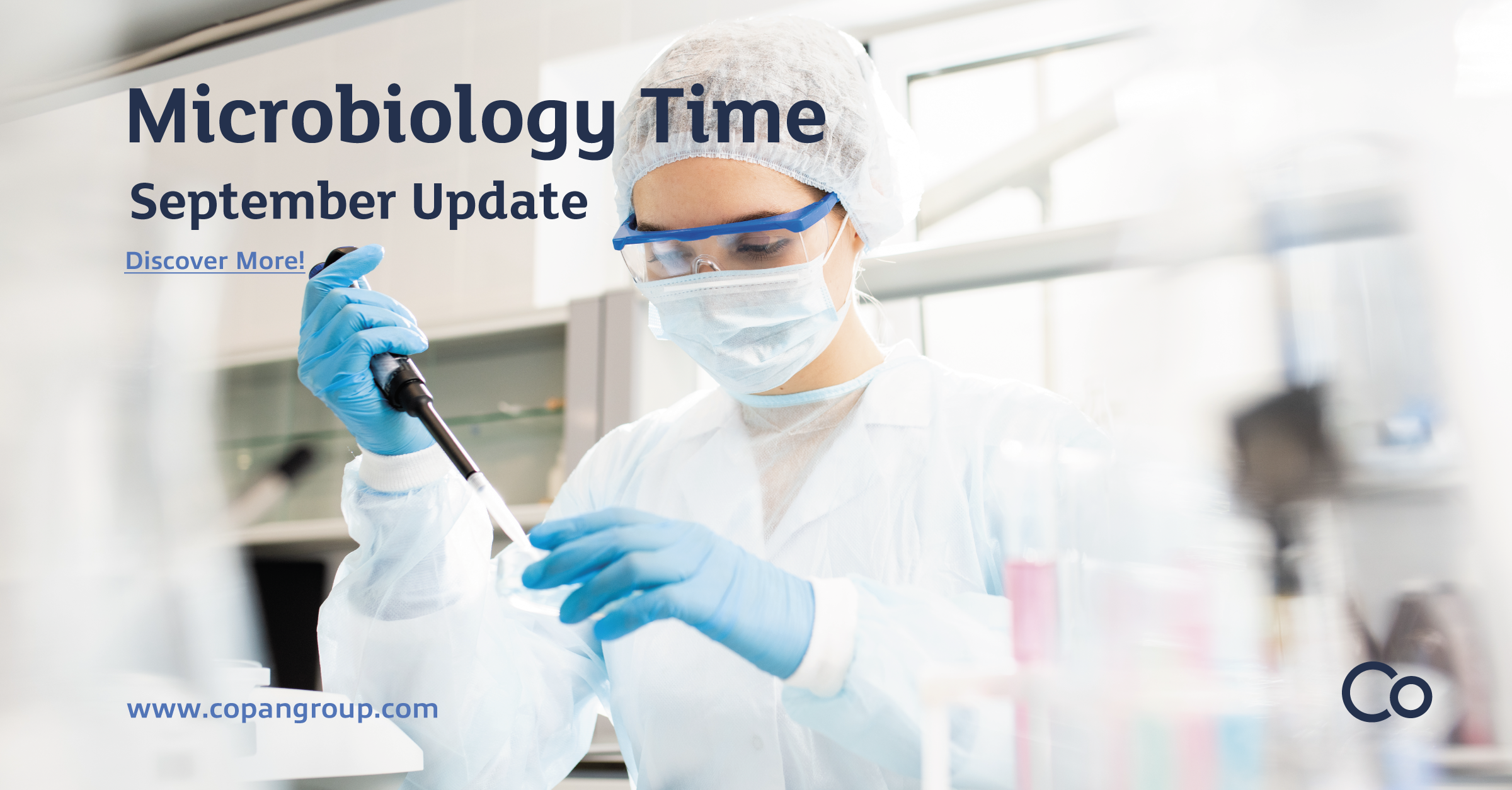 Microbiology time
October 5, 2021
Microbiology Time – October 2021
October's update of our scientific database is full of exciting papers. Among them, we selected a study on HPV-related cancer screening, a research on direct amplification of disaster victim identification samples, and a comparison of sample collection and transport methods to enhance yield and biosafety of COVID-19 testing.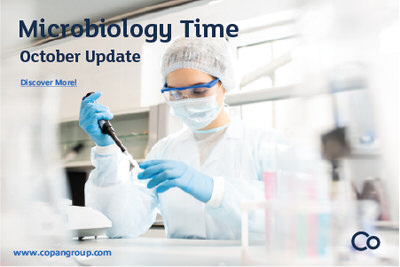 News
October 11, 2022
COPAN WASP Regulatory milestones: 2022
We finally obtained all the certificates needed to declare the entire COPAN WASP portfolio compliant with the latest European Union In Vitro Diagnostics Regulation (IVDR), which regulates access to the European market. This process allowed us to CE-mark all our products, guaranteeing our trusted partners and clients the continuous circulation of all our products throughout Europe without disruption. Overseas, our sample preparator Colibrí™ got its second 510(k) FDA clearance. Read more!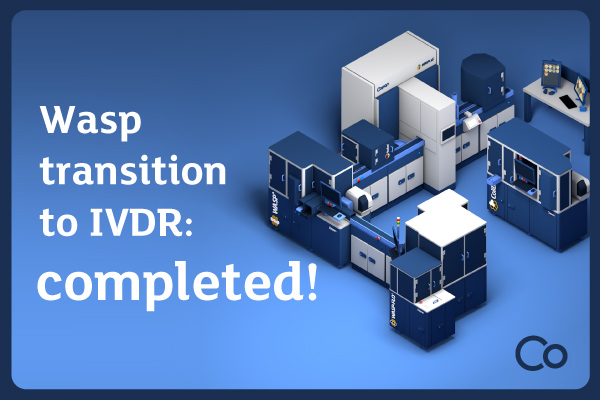 Webinar
11/11/2021
16.00 CET Time
Dr. Simone Ambretti
Dr. Carla Fontana
Boosting WASPLab® with PhenoMATRIX®
Microbiology professionals experience with our Artificial Intelligence algorithms and automated segregation.
Total Lab Automation: Experience of a Roman Teaching Hospital
Dr. Carla Fontana
UOC Microbiologia e Virologia Fondazione Policlinico, Tor Vergata
PhenoMATRIX: real-life experience of a high volume bacteriology lab
Dr. Simone Ambretti
Unità Operativa di Microbiologia IRCCS Policlinico di S.Orsola, Bologna